Energy Paintball - NRG Paint Ball
Energy Paintball and alternative paint ball games.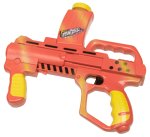 NRG is a safe alternative to real paintball. NRG paintball fires a glob of safe washable paint instead of an actual paintball. Since there is no hardcover, it is completely painless when it hits your opponent and most important of all, it's completely safe, non-toxic and will wash out of clothing. Now kids of all ages can experience the fun and excitement of the fastest growing alternative sport without the pain or the danger of real paintball. With the NRG paintball double pack you and a friend are ready for paintball play right out of the box. Set includes: 2 NRG paintball markers with rapid reload, 4 NRG paint canisters, 2 pairs of goggles, and 2 belt clips for carrying your re-loads of marking materials.