Airmazing Shoes from Skechers
Are you a kid who runs fast and jumps?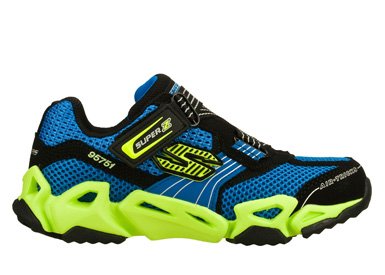 Go ahead and defy gravity wearing the Skechers Air-Mazing Kid: Fierce Flex - Gravitron shoe. Leather, synthetic and mesh fabric upper in a zigzag strap front sporty casual training sneaker with stitching and overlay accents. Skechers Boys Air-Mazing Kid Fierce Flex Gravitron
Skechers, a renowned global footwear brand, offers an impressive range of sports footwear designed specifically for children. Recognizing the diverse needs and activities of young wearers, Skechers combines functionality with style. Their children's sports footwear line is characterized by vibrant colors, trendy designs, and playful patterns that appeal to the younger demographic. Beyond aesthetics, Skechers emphasizes comfort and durability. Many of their shoes feature memory foam insoles, ensuring a comfortable fit for active kids, and are constructed with high-quality materials to withstand the wear and tear of play. Additionally, Skechers incorporates innovative technology in some designs, such as lightweight materials for better agility or Velcro straps for easy wear. Whether it's for school, sports, or casual outings, Skechers provides a versatile range that caters to the dynamic lifestyles of children, ensuring they step out in comfort, style, and confidence.