Crayola Glow Dome
With this wonderful art adventure, dreams come true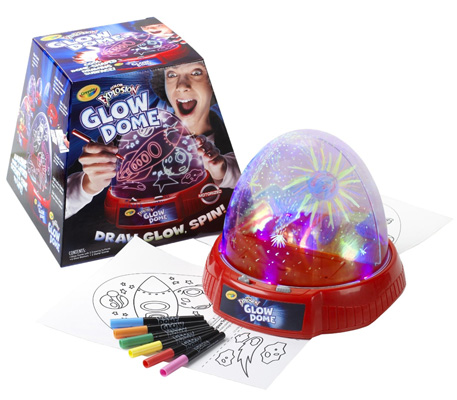 Spinning, glowing, and motorized, the Crayola Color Explosion Glow Dome lets children draw on the dome with built-in lights to see inside and outside of the dome and creates a flashing effect. A built-in motor rotates the dome at different speeds. This fusion of motion and light creates the effect of animation with flashing lights, creating a sense of wonder, making art into a kind of waking dream.
Crayola Color Explosion Glow Dome: A Radiant Sphere of Creativity
The Crayola Color Explosion Glow Dome isn't just another art set—it's a three-dimensional canvas that marries the joy of drawing with the wonders of illumination and motion. This captivating creation tool propels the imaginative world of young artists into the realm of dynamic, glowing masterpieces. Dive into the delightful features that make the Glow Dome a beacon of artistic fun:
1. 3D Artistic Expression
The unique spherical canvas of the Glow Dome challenges artists to think beyond the flat plane. Drawing on a dome allows for a panoramic view of creations, encouraging a broader perspective and fostering innovative design thinking.
2. Mesmerizing Illumination
With built-in lights, every doodle and design gets a luminous boost. The magic of watching a simple sketch come alive with light is unparalleled, transforming even the most basic drawings into radiant showpieces.
3. Dynamic Motion
Adding a layer of enchantment, the Glow Dome's motion feature makes the artwork spin, creating a mesmerizing visual display. This not only adds a dynamic touch to the art but also showcases it in a 360-degree view, ensuring every angle shines brilliantly.
4. Boosted Creativity
The combination of light, motion, and a 3D canvas pushes artists to experiment. Whether it's creating glowing patterns, spinning stories, or interactive light shows, the Glow Dome offers a plethora of creative avenues to explore.
5. Collaborative Fun
The Glow Dome becomes a center of attraction, making it perfect for group activities. Friends and family can contribute to a collective masterpiece or enjoy the spinning light show together, fostering shared moments of joy.
6. An Educational Gem
While it's a source of endless fun, the Glow Dome also introduces children to basic concepts of light, shadows, and rotational motion. Drawing on a curved surface can also enhance spatial understanding, making the experience both entertaining and educative.
The Crayola Color Explosion Glow Dome transcends the boundaries of traditional art sets. It's a glowing realm where creativity spins, lights dance, and imaginations truly soar, ensuring that every artistic endeavor becomes a luminous celebration.