Moon Sand Amusement Park
Create characters with the sand you can mold and send them on a ride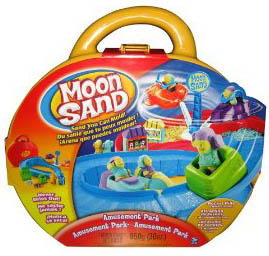 After molding your characters in moon sand, the shaping material that is like dough but doesn't dry out, you can spin them on a fun ride or send them down a slide. This material is somewhere in between clay and sand in the way it feels and works. In some ways, it is even better than the wet sand one plays with at the beach. For one thing, it is cleaner and it molds better. The amusement park kit comes with all you need to create a mini wonderland of fun. Express your artistic side with this new kind of modeling clay. Then let your imagination take over by creating a play land for your characters to enjoy.
Moon Sand is a fascinating and enjoyable art material that has captured the imagination of children and adults alike. Known for its unique texture and moldable properties, Moon Sand offers endless possibilities for creative play and artistic expression. Here's what makes Moon Sand so much fun:
Texture and Consistency: Moon Sand has a soft and pliable texture that feels delightful to the touch. It can be easily molded, shaped, and sculpted, providing a tactile and sensory experience that is both engaging and soothing.
Endless Creativity: With Moon Sand, the creative possibilities are limitless. From building castles and landscapes to crafting intricate sculptures and abstract art, Moon Sand allows users to explore their artistic potential and bring their ideas to life.
Reusable Fun: Unlike traditional sand, Moon Sand doesn't dry out and can be used again and again. This means that the fun never has to end, and creations can be reimagined and rebuilt as often as desired.
Safe and Non-Toxic: Moon Sand is typically made from safe and non-toxic materials, making it suitable for children of all ages. Parents can feel confident allowing their little ones to explore and play with this captivating material.
Educational Benefits: Playing with Moon Sand helps develop fine motor skills, hand-eye coordination, spatial awareness, and problem-solving abilities. It's a fun and interactive way to learn through play.
Therapeutic Qualities: The calming and satisfying nature of molding and shaping Moon Sand has therapeutic benefits. It can be a relaxing and stress-relieving activity for both children and adults.
Social Interaction: Moon Sand encourages collaboration and social interaction. Friends and family can work together on projects, share ideas, and enjoy quality bonding time.
Indoor and Outdoor Play: Moon Sand can be enjoyed both indoors and outdoors, making it a versatile and adaptable play material for various settings and occasions.
Moon Sand's unique properties and endless creative potential make it a beloved and stimulating art material. It invites exploration, imagination, and joy, providing hours of engaging and artistic play. Whether sculpting masterpieces, building fantastical worlds, or simply enjoying the sensory pleasure of molding and shaping, Moon Sand offers a magical and memorable experience that delights creators of all ages.