Barbie for President
Popular fashion doll runs on platform to create world peace, help the homeless and poor, and take care of animals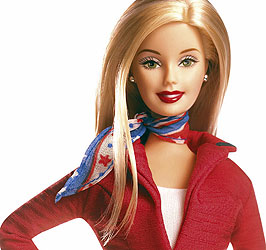 As the 2004 race to the White House heated up, the presidential candidates received an unexpected announcement: Barbie joined the race, representing the Party of Girls.
In preparation for hitting the campaign trail, Barbie consulted thousands of loyal constituents to help finalize a platform that includes three primary issues relevant to girls - create world peace, help the homeless and poor, and take care of animals. Barbie is partnering with The White House Project, a national nonpartisan organization devoted to advancing women's leadership, and has entered into an exclusive partnership with Toys R Us.
"Barbie is the ultimate ambassador for girls and this bid for the presidency reinforces the idea that it is never too soon to get involved and have your voice heard," says Russell Arons, Vice President Marketing, Mattel. "Barbie has extensive background and experience that makes for an ideal candidate - including serving in the military, acting as a UNICEF ambassador, and being a teacher; obviously, being well-educated, well-rounded, and motivated is a huge plus."
"Barbie for President shows girls that they can aspire to the highest levels of leadership, including the presidency. It allows girls to think about turning Barbie's dream house into the White House," says Marie C. Wilson, president and founder of The White House Project, which recently launched its "Go Vote. Go Run. Go Lead. Go Girl." campaign. "Since Barbie is such a large part of girls' lives, we believe it's important to encourage them to become tomorrow's leaders, and Barbie for President sends that message."
Mattel, The White House Project's Vote, Run, Lead and Toys R Us joined forces on the Barbie bid for the presidency to help encourage girls to become active in issues important to them and to showcase positive qualities and ideals that female politicians and leaders possess. Promoting community involvement, participation in voting, and female role models can improve parent-daughter dialogue, educate girls about the government, and provide them with self-esteem and confidence.
"With the presidential election on the front pages, the timing couldn't be better to start a dialogue between girls and their parents about women's leadership," says Wilson.
Working closely with Marie Wilson and The White House Project, Barbie hopes to encourage girls nationwide to learn firsthand that their voices can be heard through voting and other activities at Barbie.com.
The key strategist in the Barbie presidential campaign is Liza Strauss, an 11-year old, who has been hired as Barbie's campaign manager. Although Liza does not have extensive experience in the political field, she believes that Barbie is a great role model for girls.
"I believe that Barbie is a positive and influential role model for all girls," says Liza Strauss, campaign manager for Barbie For President. "By working closely with Barbie to ensure girls' voices are heard, I hope I can help touch girls' lives."
In this 2004 bid, Barbie is once again listening to girls for their insights on what the campaign platform's priority focus should be. Girls can vote online for Barbie doll's platform on Barbie.com. They can also track and follow the campaign's progress, learn the basics of campaigning and the electoral process, receive information about female political role models, possible leadership activities, and much more.
One of the key highlights of the Barbie campaign was held today, as Barbie and Marie Wilson hosted the first-ever 2004 "Party of Girls" convention at Toys R Us Times Square in New York City. Here, the Barbie platform was unveiled - chosen by girls across America - while Marie Wilson addressed the importance of women in politics and cited the importance of using relevant figures and their imagination to encourage young girls to get involved.
"Barbie has been a role model to millions of girls for nearly 45 years, and we are proud to be an exclusive partner and support this campaign," says Amy Parker, Senior Vice President, Marketing, Toys R Us.