Barbie Kitchen
Barbie play kitchen.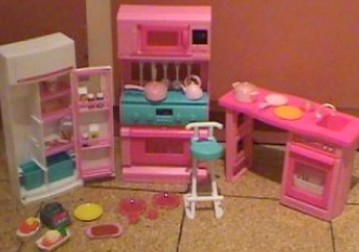 A collection of beautifully detailed furniture was refreshed in 2000. Each room of furniture had a different light-up feature. The kitchen has a light-up rotisserie that turns.
There's an undeniable charm in miniatures, and when combined with interactive elements like lighting, kitchen playsets for dolls become a wonderland of imagination for children. Here's why light-up kitchen playsets designed for dolls hold a special allure:
Realism and Immersion: The addition of lights brings a level of authenticity to the playset. A glowing oven light or a blinking microwave timer can make the entire play experience feel more "real," allowing children to immerse themselves deeply in imaginative play.
Enhanced Play Narratives: The light-up features can add depth to the stories kids create. Perhaps the doll is baking a midnight snack or preparing a festive meal, and the glowing lights set the mood for these narratives.
Visual Appeal: There's something inherently magical about lights, especially for children. The soft glow emanating from a tiny doll-sized fridge or stovetop can be utterly enchanting.
Learning Through Play: Such playsets can subtly introduce concepts of cause and effect. For instance, when a particular button is pressed, the stove light comes on, teaching children that specific actions produce certain results.
Enhanced Motor Skills: Interacting with small components, such as turning on tiny switches to light up the kitchen appliances, can help refine a child's fine motor skills.
Sensory Stimulation: The combination of tactile play with visual stimuli from the lights can offer a rich sensory experience, keeping children engaged for longer periods.
Encourages Role-Playing: With a light-up kitchen, children can role-play various scenarios, from everyday cooking routines to special occasions, fostering creativity and imagination.
Builds Responsibility: Just as in a real kitchen where one turns off the lights and appliances after use, children learn the importance of conserving energy and being responsible through play.
Social Play: Kitchen playsets are often a communal activity where kids can play together, taking up different roles, and the light-up features add another layer of interaction and communication.
Safe Exploration: A light-up kitchen playset allows children to mimic adult behaviors in a safe environment. They can "cook," "bake," and "grill" without any real hazards.
Light-up kitchen playsets for dolls combine the joy of imaginative play with the wonder of light, creating a captivating play environment that delights, educates, and inspires young minds.