Barbie Swan Lake
Barbie hottest toy for 3rd consecutive year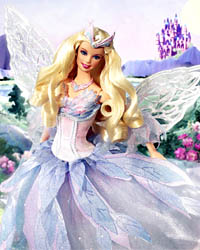 Barbie has achieved the toy industry's highest honors as the hottest toy for the third consecutive year. Starting with Barbie in the Nutcracker in 2001, continuing with Barbie as Rapunzel in 2002 and now, Barbie as Odette from "Barbie of Swan Lake" in 2003, Barbie doll's crown has three "gems" from Toy Wishes magazine's "Hot Dozen List."
"In the five year history of Toy Wishes' 'Hot Dozen List,' few toys have achieved such acclaim as Barbie," said Jim Silver, co-publisher of Toy Wishes. "Every year we review thousands of toys and narrow them down to what we predict will be the most sought-after toys of the upcoming holiday season. With Barbie doll's foray into entertainment, she has become a top star on our list for the past three consecutive years."
The Barbie as Odette doll is inspired by her third movie, "Barbie of Swan Lake," which was released nationwide on DVD and video on September 30, 2003. Based on the classic 19th century German fairytale, but reinterpreted for today's girl, Mattel's screenplay for "Barbie of Swan Lake" stars Barbie as Odette, a brave young girl who is trapped in an enchanted forest. Through an exciting adventure with her new friends, Barbie discovers that with confidence and determination each of us has the power to transform the world. Barbie as Odette doll captures the beauty and grace of Odette in the movie, allowing girls to play out the inspirational tale over and over again.
Barbie as Odette doll is currently available nationwide at a suggested retail price of $19.99. She is complemented by an array of beautiful merchandise to bring the story of "Barbie of Swan Lake" to life. With more products and expanded categories than Barbie doll's first two movies, the world of "Barbie of Swan Lake" boasts an array of fashion dolls, a plush line, accessories, software, and licensed products.