Baskin Robbins Ice Cream Maker - Baskins
Make Delicious Baskin-Robbins Ice Cream at home in less than ten minutes.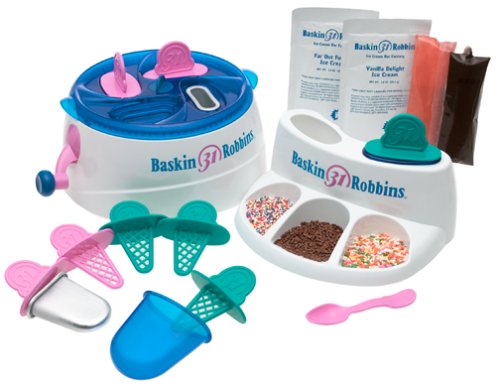 Kids can make their own little fancy ice cream bars in the metal molds of the Baskin Robbins Ice Cream Bar Factory's bowl. Then they use individual creativity to personalize their bar with a hard shell and toppings at the dipping station. It's not as messy as you might think and it's very quick: the bars form in nine minutes and the whole process takes 15 to 20. The kit comes with everything needed, except ice, half-and-half cream, and salt. There are replacement kits available for the two kinds of ice cream. The bars are just 2.5 inches long by 1.75 inches wide, so most kids will want to make the four bars and polish them all off at once.