Calico Critters Kitchen Set
Calico Critters Kitchen set with 40 accessories.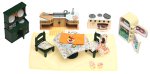 The Kitchen Set includes a round table and 2 chairs, kitchen counter with sink, oven, refrigerator and hutch. With over 40 accessories, including cutting board with bread knife, baking trays, kitchen carpet, plates, food for refrigerator and a whole lot more!