Fashion Fever
Barbie dolls and girls apparel, accessories, and fragrance promoted by teen actress and pop musician Hilary Duff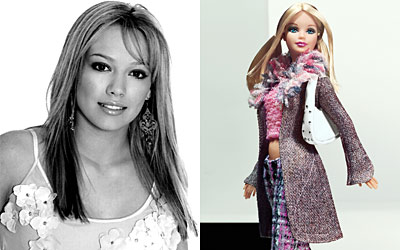 In 2004, teen actress and pop musician Hilary Duff teamed up with Mattel to introduce a new range of Barbie dolls called Fashion Fever girls apparel, accessories and Barbie fragrance. The campaign, a first of its kind for the venerable Barbie brand, shows Barbie as the ultimate fashion doll and fashion line, reinforcing its position as the number one brand with girls.
"When I was younger, I was so inspired by Barbie," said Hilary Duff. "She has been a role model for my friends and me -- I love her style and her spirit."
Recognizing that girls today take their fashion cues from Hollywood, the Barbie brand selected a partner who could bring Barbie doll's signature fashion statement to life in a way that is relevant and authentic for girls. Hilary Duff was the obvious choice. Joining Duff in one of the two national launch spots will be her older sister Haylie Duff. Additional Barbie ads will roll out this fall on television, print and outdoor.
"Hilary is many girls' number one favorite star and a person they trust and look to for fashion styles and trends, making her a perfect fit with the Barbie brand," said Tim Kilpin, Senior Vice President Marketing, Mattel.
This marks the first for the Barbie brand, as the doll and the consumer products come together to create a strong Barbie brand statement with dolls, apparel, beauty and more.
In addition to teaming up with one of the most fashionable teen idols today, Barbie brand also recently made some style noise with the launch of Fashion Fever dolls, available nationwide Fall 2004, where Barbie and friends -- Drew, Kayla and Teresa -- dress in the latest, hottest, casual fashion. A new clothing line for girls will be available this fall, exclusively at Federated Stores, such as Macy's, offering girls cool and trendy apparel. Additionally, the new Barbie fragrance that launched in August in partnership with PUIG Beauty and Fashion Group, known for their many high-end designer fragrances, brings the Barbie essence of style, excitement and femininity to girls of all ages.
Hilary Duff: Career Overview
Hilary Duff is a multifaceted talent who rose to fame as a teen idol and has since built a successful career as an actress, singer, songwriter, and entrepreneur. Here's an overview of her career:
Early Acting Success: Hilary Duff's breakthrough came with her role as Lizzie McGuire in the Disney Channel television series "Lizzie McGuire" (2001-2004). The show's popularity made her a household name among young audiences and marked the beginning of her acting career.
Transition to Film: Duff's acting talents extended to the big screen. She starred in successful films like "The Lizzie McGuire Movie" (2003), which was a continuation of her TV role, and "A Cinderella Story" (2004), showcasing her appeal to teen audiences.
Music Career: Duff's music career took off with the release of her debut album "Metamorphosis" in 2003. The album's hit single "So Yesterday" was a chart-topper, and her music resonated with her fan base. She released subsequent albums like "Hilary Duff" (2004) and "Most Wanted" (2005).
Continued Acting Success: Duff's acting career flourished with roles in family-oriented films like "Cheaper by the Dozen" (2003) and its sequel, as well as "Material Girls" (2006). She showcased her versatility in both comedic and dramatic roles.
Entrepreneurial Ventures: Beyond entertainment, Duff ventured into entrepreneurship. She launched her own fashion line, "Stuff by Hilary Duff," which included clothing and accessories. Her line catered to young girls and reflected her personal style.
Television Comeback: Duff returned to television with guest appearances on shows like "Gossip Girl" and later starred in the TV Land series "Younger" (2015-2021), receiving critical acclaim for her performance as Kelsey Peters.
Maturing Image: Duff's transition from teen idol to adult entertainer was marked by her evolving image and roles. She took on more mature and complex characters in projects like "War, Inc." (2008) and "Bloodworth" (2010).
Motherhood and Comeback: After taking a hiatus from entertainment to focus on motherhood, Duff returned to the spotlight with the revival of her music career. She released singles like "Chasing the Sun" (2014) and "All About You" (2014), showcasing a more mature sound.
Continued Success and Impact: Hilary Duff's enduring popularity and versatility have solidified her as a prominent figure in entertainment. Her authenticity, relatability, and ability to navigate different facets of the industry have garnered her a dedicated fan base and a lasting influence on both music and acting.
Hilary Duff's career trajectory is marked by her ability to transition from a beloved teen star to a respected artist, actress, and entrepreneur, leaving an indelible mark on popular culture.