Fashion Fever
Barbie dolls and girls apparel, accessories, and fragrance promoted by teen actress and pop musician Hilary Duff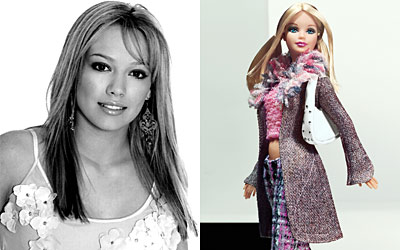 Teen actress and top pop musician Hilary Duff has teamed up with Mattel to introduce a new range of Barbie dolls called Fashion Fever girls apparel, accessories and Barbie fragrance. The campaign, a first of its kind for the venerable Barbie brand, shows Barbie as the ultimate fashion doll and fashion line, reinforcing its position as the number one brand with girls.
"When I was younger, I was so inspired by Barbie," said Hilary Duff. "She has been a role model for my friends and me -- I love her style and her spirit."
Recognizing that girls today take their fashion cues from Hollywood, the Barbie brand selected a partner who could bring Barbie doll's signature fashion statement to life in a way that is relevant and authentic for girls. Hilary Duff was the obvious choice. Joining Duff in one of the two national launch spots will be her older sister Haylie Duff. Additional Barbie ads will roll out this fall on television, print and outdoor.
"Hilary is many girls' number one favorite star and a person they trust and look to for fashion styles and trends, making her a perfect fit with the Barbie brand," said Tim Kilpin, Senior Vice President Marketing, Mattel.
This marks the first for the Barbie brand, as the doll and the consumer products come together to create a strong Barbie brand statement with dolls, apparel, beauty and more.
In addition to teaming up with one of the most fashionable teen idols today, Barbie brand also recently made some style noise with the launch of Fashion Fever dolls, available nationwide Fall 2004, where Barbie and friends -- Drew, Kayla and Teresa -- dress in the latest, hottest, casual fashion. A new clothing line for girls will be available this fall, exclusively at Federated Stores, such as Macy's, offering girls cool and trendy apparel. Additionally, the new Barbie fragrance that launched in August in partnership with PUIG Beauty and Fashion Group, known for their many high-end designer fragrances, brings the Barbie essence of style, excitement and femininity to girls of all ages.
Mattel designs, manufactures, and markets of toys and family products.