Fisher Price Kitchen
A pretend kitchen with all the basics.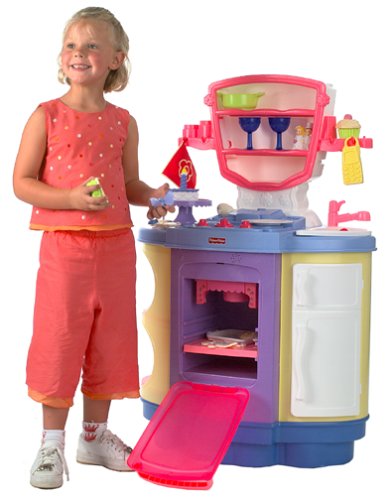 Budding young pastry chefs can get some early training in the culinary arts with this pretend kitchen. Kids can make, bake, and decorate toy goodies in this workstation, which includes a refrigerator, overhead pantry, and side storage for ingredients; a stovetop with burners and knobs and an oven for cooking treats; and a sink for cleaning up. The magic oven appears to actually bake the seven different sweets that come with the kitchen by changing their color when cooked. Kids can refer to the built-in cookbook to see what treats should look like before and after baking. An icing bag with a soft tip lets kids decorate their masterpieces after they come out of the oven. Other vital kitchen accessories in the set include a mixing bowl, a baking dish, two serving plates, a potholder, a pitcher, two water goblets, a spatula, a fork, a spoon, a whisk, a cake stand, four cake toppers, cake mix, a milk carton, an egg, and a phone. Lights twinkle. Music plays. The magic oven bakes color-change treats. 32 mix-and-match accessories and lots of fun features keep little bakers busy making, baking and presenting sweet creations all day long. Put treats in the oven and turn the knob to start the color change fun. Lights twinkle and music plays as they bake. It's fun to use the decorator icing bag with soft dabber tip to color change goodies, too. Even clean-up is a treat in this Kitchen, with hooks, shelves, overhead pantry and roomy refrigerator for plenty of accessory storage.
How Play Kitchens May Inspire Young Chefs
Play kitchens serve as a fascinating microcosm where children can explore the world of cooking and culinary arts in a safe, imaginative environment. These playsets offer more than just fun; they could be the first step in inspiring a young chef. Here's how:
Creativity: A play kitchen encourages kids to use their imagination, as they pretend to prepare and cook meals. This imaginative play can foster creativity, which is an essential component in the culinary world for creating unique and delicious dishes.
Motor Skills: Cooking involves a lot of hand-eye coordination and fine motor skills. Using play kitchen utensils and appliances to "cut," "stir," and "serve" food allows children to develop these skills from an early age.
Understanding Basics: A play kitchen introduces children to basic kitchen appliances and utensils, giving them a head start in becoming familiar with tools they will use later in a real kitchen.
Social Skills: Cooking is often a communal activity, and a play kitchen allows for social interaction. Kids can role-play different kitchen scenarios, take turns, and share responsibilities, all of which are useful skills in a real kitchen setting.
Nutrition Awareness: While playing, parents can seize the opportunity to teach children about the importance of different types of food and balanced meals, laying the foundation for healthy eating habits.
Following Instructions: Pretending to follow a recipe or cooking steps can teach kids the importance of following instructions carefully— a crucial skill in successfully executing a dish.
Life Skills: Cooking is a life skill everyone needs. Becoming comfortable in a kitchen setting from a young age can create a sense of confidence that will be beneficial later in life.
Inspiration: The fun and satisfaction derived from "creating" in a play kitchen can sometimes spark a genuine interest in cooking, inspiring children to try their hand at the real thing as they grow older.
Play kitchens provide a rich learning environment that could inspire a passion for cooking and potentially set the stage for a future culinary star.