Fisher Price Sweet Magic Kitchen
Play kitchen with music and color changes.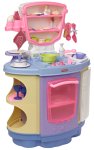 Lights twinkle! Music plays! The magic oven bakes color-change treats! 32 mix-and-match accessories and lots of fun features keep little bakers busy making, baking and presenting sweet creations all day long! Put treats in the oven and turn the knob to start the color change fun. Lights twinkle and music plays as they bake. It's fun to use the decorator icing bag with soft dabber tip to color change goodies, too. Even clean-up is a treat in this Kitchen, with hooks, shelves, overhead pantry and roomy refrigerator for plenty of accessory storage.
An oven playset is a delightful and imaginative toy that captures children's fascination with cooking and food preparation. This type of playset allows children to mimic the activities they see in the kitchen, encouraging creativity, role-play, and interactive learning. Here's why an oven playset is so much fun for kids:
Imaginative Play: Children love to emulate adults, and an oven playset allows them to step into the role of a chef or baker. They can create their own imaginative scenarios, cook up imaginary meals, and host make-believe gatherings.
Pretend Cooking: With an oven playset, children can "cook" their favorite dishes using play food items. They can pretend to bake cookies, roast chicken, or make pizzas, fostering their creativity and expanding their culinary imagination.
Role-Playing: Role-play helps children develop important life skills and social interactions. An oven playset encourages kids to take on different roles such as chef, server, or customer, enhancing their communication and collaboration skills.
Hand-Eye Coordination: Operating the oven's knobs, buttons, and doors requires hand-eye coordination and fine motor skills. Children develop their dexterity as they open and close the oven, adjust settings, and place items inside.
Understanding Cause and Effect: Children can experiment with turning knobs, pressing buttons, and setting timers on the oven playset. This hands-on experience helps them understand the concept of cause and effect as they observe the results of their actions.
Introduction to Cooking: An oven playset introduces children to the basic concepts of cooking, including temperature, timing, and food preparation. As they engage in pretend play, they become familiar with the idea of cooking as a creative process.
Social Play: Cooking often involves sharing and serving meals. Children can invite their friends, dolls, or stuffed animals for a "meal," promoting social interaction, cooperation, and the development of good manners.
Creative Expression: Children can decorate play food items, design menus, and even come up with their own recipes. This creative expression allows them to explore their artistic side and experiment with colors and patterns.
Problem-Solving: During pretend cooking, children may encounter challenges such as deciding how long to "bake" an item or determining the right combination of ingredients. These challenges foster critical thinking and problem-solving skills.
Family Bonding: An oven playset can be a wonderful way for children to engage in pretend cooking alongside parents or caregivers. It provides an opportunity for family bonding, shared activities, and conversations about cooking.
An oven playset offers children a world of imaginative cooking adventures, role-play, and interactive learning. Through creative play, they explore the culinary world, develop essential skills, and have loads of fun as they whip up imaginary meals and treats in their own mini kitchen.