Fisher Price Sweet Magic Kitchen
Play kitchen with music and color changes.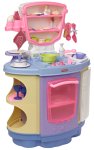 Lights twinkle! Music plays! The magic oven bakes color-change treats! 32 mix-and-match accessories and lots of fun features keep little bakers busy making, baking and presenting sweet creations all day long! Put treats in the oven and turn the knob to start the color change fun. Lights twinkle and music plays as they bake. It's fun to use the decorator icing bag with soft dabber tip to color change goodies, too. Even clean-up is a treat in this Kitchen, with hooks, shelves, overhead pantry and roomy refrigerator for plenty of accessory storage.