Fisher Price Water Magic Kitchen
Kitchen with realistic boiling action.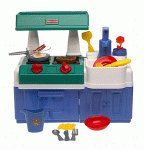 Kitchen combination of stove, grill and sink that use a 1/2 cup of water to create realistic bubbling action. Water appears to boil in the pan on the stove top and the food placed on the griddle, sizzles before your eyes. Includes: Plate, bowl, fork, knife, spoon, sauce pan, spatula, ladle, steak, eggs, bacon, and alphabet noodles.