Game Boy Color Discount
Limited Edition Pokemon Crystal Game Boy Color Bundle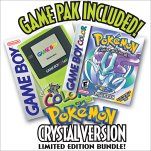 This limited-edition Game Boy Color console in the color of kiwi comes with a free copy of the game Pokemon Crystal. Quantities are limited, so catch yours while you can. The Game Boy Color was a significant handheld gaming console that introduced various features.
Color Display: The Game Boy Color featured a 2.32-inch color TFT LCD screen, capable of displaying 56 colors simultaneously from a palette of 32,768 colors.
Processor: Powered by a custom 8-bit Z80 CPU running at 4.19 MHz, providing enhanced performance compared to its predecessors.
Memory: Included 32 KB of RAM and 16 KB of VRAM, allowing for more complex games and graphics.
Backward Compatibility: Compatible with original Game Boy games, allowing players to enjoy a vast library of classic titles.
Cartridge System: Utilized interchangeable game cartridges, enabling a wide variety of gaming experiences.
Power Supply: Operated on two AA batteries, providing approximately 10-30 hours of gameplay, depending on usage.
Sound: Featured stereo sound through headphones and mono sound through the built-in speaker, enhancing the audio experience.
Multiplayer Capability: Supported multiplayer gaming through a link cable, allowing players to connect multiple Game Boy Color devices.
Portability: Compact and lightweight design made it highly portable and suitable for gaming on the go.
Infrared Port: Included an infrared communications port for wireless data transfer between devices.
Physical Controls: Featured a directional pad, A and B buttons, Start and Select buttons, providing intuitive and responsive controls.
Accessories: Supported various accessories, such as the Game Boy Printer, Game Boy Camera, and others, expanding its functionality.
Color Variants: Available in multiple color variants, allowing users to choose according to their preferences.