Game Boy Micro
Small sleek portable game player has 2-inch brightness-adjustable backlit screen and rechargeable lithium-ion battery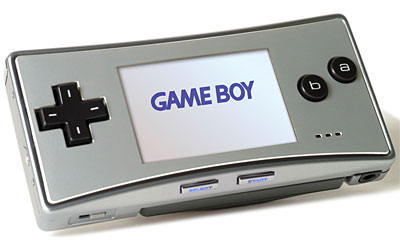 The original Game Boy Advance fits comfortably into the pocket of a backpack. The retooled Game Boy Advance SP fits into a coat pocket. Now Nintendo takes aim at the pocket of your tightest jeans with the tiny Game Boy Micro system, quite simply the smallest and sleekest Game Boy product that Nintendo has ever created.
The silver metal Game Boy Micro measures 4 inches wide, 2 inches tall, and 0.7 inches deep. weighs an astonishing 2.8 ounces. Yet Game Boy Micro has the same processing power and plays the same games as Game Boy Advance SP models, complete with standard face controls and gleaming shoulder and Start/Select buttons.
A removable face plate gives owners the option to buy replacements to customize the look of their systems again and again with new colors and designs. Most notably, its 2-inch backlit screen shines with incredible power, rendering games in startling clarity with fantastic colors on the best Game Boy screen ever. For the first time, users can adjust the brightness of the screen to adapt to indoor lights or outdoor sunshine.
"We're making the gorgeous Game Boy Micro for image-conscious folks who love video games, the ones who want the look of their system to be as cool as the games they play on it," says George Harrison of Nintendo. "Because of its diminutive size and industrial-hip look, Game Boy Micro immediately identifies the person playing it as a trendsetter with discriminating style."
Game Boy Micro, to be released this fall, represents the latest evolution in the image of the Game Boy Advance line.