amBX
Ambient intelligent environment extends the gaming world into the real world through the use of light, color, sound, and airflow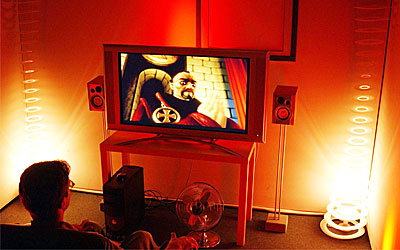 Philips amBX technology will redefine the experience of playing video games, watching movies, and listening to music. Using light, color, sound, heat, and air, amBX submerges the user within a complete sensory surround experience, which extends the gaming world out of the screen and into the real world by barraging the senses with audio and visual queues tuned to the action on the screen. Philips is currently talking with several leading game developers and peripheral manufacturers about amBX-enabling leading games and devices. The amBX technology will be launched in May, while amBX-enabled games and peripherals will arrive near the end of next year.

"For video game creators, this is a fantastic opportunity as amBX expands the immersive experience by bringing gameplay into the real world environment," said Jo Cooke of Philips amBX. "The creative possibilities, using this technology, for the games industry and beyond are immense."

The result of extensive research and development, amBX delivers an all-new player experience through enabled devices including LED color-controlled lights, active furniture, fans, heaters, audio, and video -- strategically placed in the user's room. By utilizing this ground-breaking technology, journeys through the Amazon will turn rooms jungle green, swimming with dolphins will splash rooms deep blue, Halo jumps will turn fans on full, lightning storms will trigger strobe effects of white light and pirate ships on fire off the coast of treasure island will blast on heaters.

The amBX experience comes alive through the incorporation of a scripting language, software engine, and hardware architecture. Philips amBX provides the support framework for peripheral manufacturers to develop these enabled products and empowers game developers to amBX-enable and enhance their games. Through amBX, Philips has forged a common language for the creation, distribution, and sharing of new experiences within an ambient intelligent environment.