Gameboy Advance SP
Price reduction with Start Mayhem marketing campaign that showcases different personalities for each GBASP color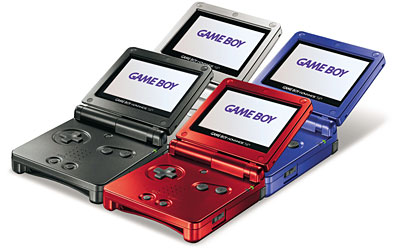 Starting September 2, 2004, Nintendo's Game Boy Advance SP sold for $79.99, $20 less than its earlier price. The reduction expands the potential audience of the consumer electronics device to a wider range of consumers.
At the same time, Nintendo also paves the way for more Mayhem - the watchword of the new Start Mayhem Game Boy Advance SP marketing campaign that debuts with the new price point, showcasing different personalities for each of the GBA SP colors.
This new price point made Game Boy Advance SP affordable for the vast majority of the mass market, and gives people a must-have gift to automatically put at the top of their holiday gift lists, said George Harrison, Nintendo of America's senior vice president of marketing and corporate communications. Nintendo has always owned the portable video game market, and this further strengthens our leadership position.
Game Boy Advance SP, which is front-lit and sports a clam-shell design, has sold more than 20 million units worldwide, and will continue its dominance this fall with an impressive lineup of games. Before the end of the year, Nintendo will launch titles like Pokemon FireRed, Pokemon LeafGreen, F-Zero GP Legend, Mario Pinball Land, Kirby & The Amazing Mirror, Donkey Kong Country 2, Final Fantasy I & II: Dawn of Souls and Classic NES Series 2, which features old-school games like Metroid, Castlevania, Dr. Mario and Zelda II: The Adventure of Link. Added to this will be more than 50 titles hitting the market from Nintendo licensees.
In addition, Game Boy Advance SP continues to expand its range, with the Game Boy Wireless Adapter that comes packaged with Pokemon FireRed and Pokemon LeafGreen, as well as Game Boy Advance Video, novel video paks that let users watch cartoons right on their Game Boy Advance units.
The Start Mayhem campaign features CGI-animated Game Boy Advance SP units brought to life in a variety of fun situations. Each color unit demonstrates a different personality. The campaign kicked off with videos featuring the Flame and Onyx systems.