PC Gaming Headset
Logitech Precision delivers good voice and audio quality through its comfortable open-air behind-the-head design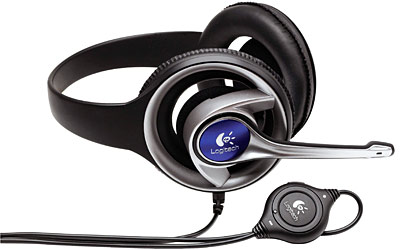 With more games featuring voice capabilities, real-time communication is key for online gaming. In 2004, the Logitech Precision PC Gaming Headset provided quality audio technology and stylish design at an extremely affordable price. A unique open-air and behind-the-head design was comfortable during long sessions.
For both casual and intense gamers, the 40mm neodymium stereo headphone drivers offer crisp audio, while the headset's noise-canceling microphone blocks out background noise to deliver clear voice quality.
"There are more PC games on the market that support voice than ever before, making headsets almost a required accessory for serious gamers," said Jef Holove of Logitech. "Our newest headset enhances the overall experience, allowing gamers to take advantage of true-to-life sound for superior gaming performance, while offering the comfort, style and quality for which Logitech is known."
The new PC gaming headset also featured an adjustable boom for optimal positioning and easy access to the in-line volume controls during the heat of battle. These features, combined with the dynamic stereo sound, made for a completely immersive experience in both games and music.