Kawasaki Supershot Dirtbike Super Shock Shot Dirt Bike
Power Wheels Kawasaki Super Shock Dirt Bike by Fisher-Price.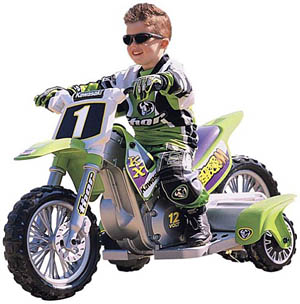 A 12-Volt battery powered ride-on, the Kawasaki Dirt Bike captures authentic dirt bike styling and introduces motorcross role-play. Featuring open spoked wheels and two hidden outrigger wheels for added stability, a NEW super shock seat as a play feature, turbo boost handle grip, and motorcross racing sounds. It goes two speeds forward (2.5 and 5.0 mph) and one speed in reverse (2.5mph). 12-Volt battery and charger included.