Little Chefs Kitchen Meals
Plastic play foods.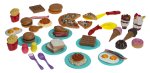 Whether your play kitchen is wooden, plastic, or purely imaginary, be sure to supply it with lots of calories. This selection of plastic play foods contains enough items to open a restaurant. There are three complete meals, and also place mats, plates, silverware, and menus. Food items range from pizza slices and fried eggs to ice cream cones, waffles, and glazed donuts. Pieces are typically about half life-size. Safety Information: small parts, not for children under 3 years old.
Play food playsets offer a delightful and imaginative play experience for children, allowing them to engage in role-playing scenarios that mirror real-life activities like cooking, serving meals, and grocery shopping. These sets typically include a variety of realistic-looking food items, ranging from fruits and vegetables to meats, desserts, and even packaged goods. Children can use their creativity to create imaginary meals, organize picnics, or run their own make-believe restaurant. Through these interactive play sessions, kids develop essential skills such as fine motor control, hand-eye coordination, and cognitive abilities as they sort, stack, and assemble the play food. Additionally, play food playsets encourage social interaction and communication as children collaborate with friends or family members in shared culinary adventures. As they explore different textures, colors, and shapes, youngsters also gain a basic understanding of nutrition and food groups, fostering both entertainment and education in one captivating package.