Little Tikes Discover Sounds Kitchen
Interactive kitchen with delicious activities and electronic sounds to stimulate baby's imagination.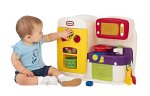 This charming interactive kitchen has lots of delicious activities and electronic sounds to stimulate baby's imagination and help develop skills. Place a pot or pan on the stovetop to hear boiling or frying sounds; turn the oventimer to hear ticking and bell sounds. A refrigerator shape sorting game allows the shapes to fall into the built-in ice dispenser with a push of a button. Includes 8 accessories. Play kitchens are favorite toddler toys, but they often take up a tremendous amount of space. This scaled-down version provides all sorts of fun activities and fits neatly in even the smallest of rooms. The unit itself stands approximately 16.5 inches tall, 22 inches wide, and 8.5 inches deep. There's a refrigerator with a bright yellow door that has a shape sorter on the outside: insert the shapes, then push the button, and the shapes drop into the waiting pot just like an icemaker dispensing ice. Open the refrigerator drawer and just look at all the (sticker) food on the pretend shelves! The red microwave and white oven have functional, bright green doors. A purple sink and countertop sport a white faucet and blue burner. Turn the yellow timer knob below the burner and the timer ticks and rings. Set the included, smiling orange frying pan on the burner and the imaginary food immediately starts to sizzle. Place the smiling green pot on the stove and listen to pretend water bubble and boil. Also included are an oversized measuring spoon and spatula, a phone with a wall bracket, and three plastic shapes for the shape sorter/ice dispenser.
Even the youngest of children are drawn to the allure of a toy kitchen, captivated by the vibrant colors, interactive elements, and the endless possibilities for creative play. These playsets are not just toys but imaginative playgrounds where toddlers can mimic their parents or favorite chefs, learning basic life skills as they go. From stirring a pot to setting a timer, each action is an opportunity for growth and understanding. Kids are naturally curious and love to explore, making a toy kitchen the perfect setting for them to engage their imaginations, practice problem-solving, and even build social skills through collaborative play. It's amazing to see how even simple kitchen activities can spark joy and a sense of accomplishment in young children.