Magic Talking Grill
The grill with a bunch of buddies built in by Playschool ( Playskool).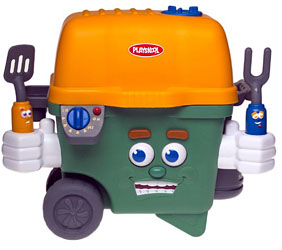 Finally, kids get to do some outdoor cooking. For years there have been plenty of play stoves and refrigerators, but now kids can practice grilling and use their imaginations to whip up a family picnic. What's more, this special grill is a delightful companion, with its grilling sound effects, cheerful voice, and more than 50 phrases (e.g., Come and get it, Fire me up, One hot dog coming up). To activate, simply press the ignition button, turn the temperature dial, press the grill surface, or lift the grill top. Ideal for encouraging creative play, the Magic Grill lets kids flip burgers, grill buns, throw on a hot dog, turn up the gas, and, of course, share the makings with friends and family. Now preschoolers can BBQ just like Dad with this friendly, animated talking grill. Just press the on button or open the lid and the Magic Talking Grill comes to life with eye and mouth movements and pretend glowing coals. Says more then 50 phrases and comes with a pretend hot dog and bun, hamburger and bun, corn, utensil and condiments - all the fixings for a fun and sizzlin' meal. Makes sizzling sounds and interacts with the ketchup bottle, mustard bottle, fork and spatula.
A play grill that makes sounds of grilling offers an incredibly immersive and entertaining experience that delights children on multiple sensory levels. Just like a real-life barbecue, this toy gives young grillmasters the satisfaction of hearing sizzles and crackles as they "cook," heightening the realism and engagement of the play. The auditory effects captivate their imagination and make the experience feel authentic, encouraging them to dive deeper into their role-playing. Whether they are pretending to grill burgers for a family cookout or hosting an imaginary backyard party for their stuffed animals, the play grill opens up a world of creative scenarios. It's not just about the food; it's about the joy of gathering, sharing, and emulating the adults they look up to. Plus, this form of imaginative play teaches kids basic cooking concepts, coordination, and even social skills as they learn to serve their guests. For a child, the play grill that makes grilling sounds is not just a toy—it's a gateway to a fun-filled culinary adventure.