Meade Polaris Telescope
Meade Polaris 60-AZ-D Telescope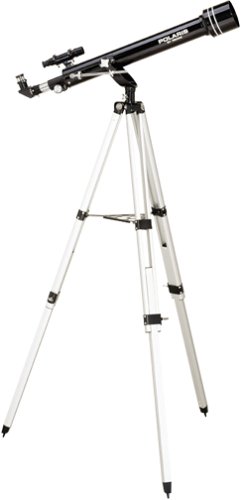 A quality refracting telescope for land or sky viewing. It is perfect for observing celestial objects like Saturn, Jupiter, and the moon. It has an attractive design and fits in any room. The Polaris 60 AZ-D is a cost-efficient telescope for the beginner.
Telescope: A Window to the Universe
A telescope is more than just an instrument; it's a gateway to the cosmos that can ignite a child's passion for science and exploration. Here's how a telescope can enrich a child's sense of scientific curiosity and wonder:
Exploration of Celestial Objects: Telescopes allow children to observe planets, stars, and galaxies, transforming abstract concepts into tangible experiences.
Understanding of Astronomy: By observing celestial phenomena, children can develop a deeper understanding of astronomical concepts such as orbits, constellations, and the life cycle of stars.
Connection to History and Culture: Telescopes provide a link to the history of astronomy and the cultural significance of celestial objects, fostering a broader appreciation of human knowledge and heritage.
Development of Critical Thinking: Using a telescope requires precision and problem-solving, helping children develop critical thinking and observational skills.
Stimulation of Imagination: Gazing at the night sky can spark a child's imagination and inspire questions about the universe, life, and our place in the cosmos.
Encouragement of Outdoor Activity: Telescopes encourage children to spend time outdoors, connecting with nature and the night sky, away from screens and electronic devices.
Introduction to STEM Fields: Early exposure to telescopes can foster an interest in STEM (Science, Technology, Engineering, Mathematics) fields, potentially leading to educational and career opportunities.
Family Bonding: Stargazing with a telescope can be a shared family activity, creating memorable experiences and encouraging communication and collaboration.
Appreciation of Beauty and Scale: Observing the vastness and beauty of the universe can instill a sense of awe and wonder, enhancing a child's appreciation of the world around them.
A telescope is a powerful tool that can inspire a lifelong love of science, exploration, and discovery. It offers children a unique opportunity to connect with the universe, fostering curiosity, creativity, and a sense of wonder that extends beyond the classroom.