Metroid Prime 2 Echoes
Nintendo GameCube system and two free discs, the complete original game and a playable demo of the sequel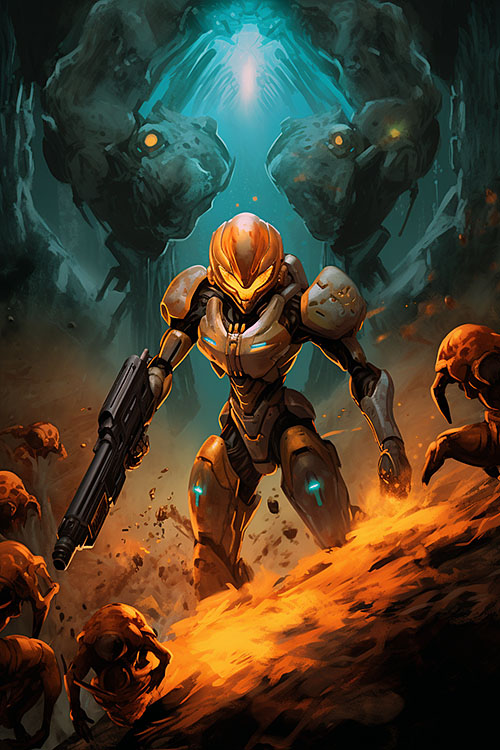 The "Metroid Prime" series stands as a cornerstone in the realm of action-adventure video games, providing a rich blend of exploration, combat, and puzzle-solving within an atmospheric, sci-fi universe. Launched as a first-person spin-off of the original "Metroid" series, "Metroid Prime" focuses on the exploits of Samus Aran, an intergalactic bounty hunter navigating isolated alien worlds. These games are praised for their meticulous level design, which encourages players to explore and interact with their environment to progress. The first-person perspective adds an immersive quality, pulling players directly into the intricate labyrinths, exotic landscapes, and battles with formidable creatures. With elements of lore scattered throughout the games, players can delve into the complex narrative underlying the series, which adds depth and context to the action. Offering a unique fusion of gameplay mechanics, atmospheric storytelling, and high-quality graphics, the "Metroid Prime" series has cemented its legacy as a staple in the video game canon, captivating players with its immersive worlds and intricate design.
Starting August 15, 2004, Nintendo's Metroid Prime Bonus Bundle gave consumers a Nintendo GameCube system and two free discs. The first disc contained a complete version of the award-winning Metroid Prime game, while the bonus disc contained a playable demo version of the then highly anticipated sequel, Metroid Prime 2 Echoes.
"Other companies sell their systems starting at $150," says George Harrison, Nintendo of America's senior vice president of marketing and corporate communications. "No one can match Nintendo's value as we offer a Nintendo GameCube and two free discs, all for $99.99."
The great value of the bundle builds on the already-strong interest in Metroid Prime 2 Echoes and carries the enthusiasm into the holiday season. The bonus disc features a wealth of information about the Metroid franchise, such as an exclusive playable demo of Metroid Prime 2 Echoes; The Metroid Chronicle, an interactive history of the Metroid franchise; two Metroid Prime 2 Echoes cinematic trailers; and a stunning Metroid Prime art gallery. And the whole bonus bundle comes in a Metroid-styled Nintendo GameCube packaging. This incredible value will be available only while supplies last.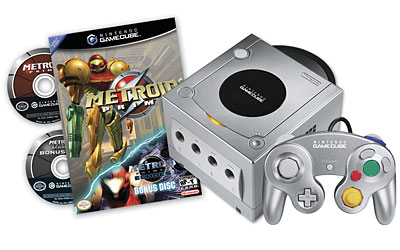 Game enthusiasts who already owned a Nintendo GameCube could get the bonus disc in one of two ways, while supplies lastd. The bonus disc can be obtained by purchasing a one-year subscription or renewal to Nintendo Power magazine, the official print source for product-related updates and information. The second option allows "My Nintendo" members of Nintendo.com to obtain the bonus disc by registering a Nintendo GameCube system and five eligible software titles.
Metroid Prime remains one of the most adrenaline-soaked Nintendo GameCube titles of all time, with more than 1 million units sold. Metroid Prime was named the 2003 first-person action console action game of the year by the Academy of Interactive Arts & Sciences, and was named "Game of the Year" by GameSpot.com, GameSpy.com, IGN Cube.com and Planet GameCube.com.
Metroid Prime 2 Echoes, set to launch November 15, sends heroine Samus Aran to explore the dual Light and Dark sides of split-dimension planet Aether. The tension-packed first-person adventure features new power-ups, a new ammo system and special suit upgrades. And for the first time in the Metroid franchise, up to four players can battle against each other in multiplayer mode using all of Samus' unique powers and abilities.
Nintendo manufactures and markets hardware and software for its popular home and portable video game systems.