Play Kitchen Super Set
Cutting Food Box.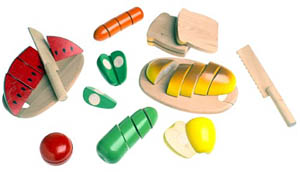 Kids love hearing the realistic crunch as they slice their way through this value-packed food set. This smooth-sanded, solid wood set in beautiful, non-toxic colors features 2 cutting boards, 2 knives and 8 food items with 29 pieces! Items store neatly in the sturdy wooden storage case with see-through lid.
The allure of play food that can be "sliced" apart and reassembled with Velcro is manifold, offering children a tactile and interactive experience that is both educational and enjoyable. This kind of toy engages kids on multiple levels: it fuels their imagination as they pretend to be chefs or grocery shoppers; it provides sensory satisfaction through the act of "cutting" and hearing the Velcro separate; and it teaches basic concepts of part-whole relationships and fractions. The reassemblable nature of these toys also adds an element of puzzle-solving, as children figure out which pieces go together. Additionally, the action of cutting and sticking the Velcro back together can enhance fine motor skills. Overall, this simple yet ingenious twist on traditional play food sets offers a richer, more engaging playtime experience.