Play Pots and Pans
Pots and pans for a play kitchen.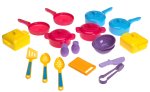 Pots and pans to equip a play kitchen. There are gourmet options out there (for example, realistic play versions of Calphalon pots), but this more basic set of cookware gets the job done, too. More than half a dozen pots and pans, with lids, are complemented by bowls, serving utensils, and some food items. Most items are about half life-size or a little less--pans 4 inches across and food cans 2 inches high.
Play pots and pans are gateways to a world of imaginative play for children. With a set of these in hand, kids can pretend to be world-class chefs, busy homemakers, or adventurous campers cooking in the great outdoors. The clanging and banging of the pots and pans offer auditory stimulation, while the act of "cooking" helps children develop their hand-eye coordination and fine motor skills. Role-playing also enables them to enact social scenarios, learning important lessons about sharing, cooperation, and responsibility. For many kids, the thrill lies in mimicking adults, offering them a sense of autonomy and competence. Whether they're hosting a tea party for their stuffed animals or "cooking" dinner for mom and dad, play pots and pans serve as excellent tools for imaginative, educational, and satisfying play.