Radio Flyer Red Tricycle
Classic red tricycle.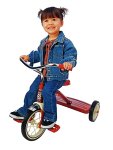 This Radio Flyer Tricycle features classic tricycle styling with chrome handlebars and fender. It contains a sturdy steel construction, durable steel spoked wheels with real rubber tires, an adjustable seat and a 10 inch front wheel. Recommended for ages 2 to 4. A tinier version of the traditional Radio Flyer steel trike, this 10-inch classic couldn't get any cuter without an anxious toddler onboard. Wide handlebars with grips, matching red pedals, a step in back for piggybacking, and a wide two-color seat give it a distinctly retro look. But its old-fashioned style doesn't take away from its functionality--the ride is smooth.
The tricycle, a three-wheeled vehicle designed primarily for children and, in some cases, adults with balance issues, has a long history dating back to the early 19th century. The first tricycles were created almost simultaneously with the invention of bicycles and were initially built for adults as a safer and more stable alternative. Tricycles became especially popular in the late 19th and early 20th centuries, as they were considered more "appropriate" for women who wanted to maintain modesty while riding. With time, the focus shifted more towards children's tricycles, which became a staple toy in many households. Manufacturers started to introduce various designs, incorporating new materials like plastic and advanced features such as storage compartments and adjustable seating. Tricycles have not only served as a fun and educational tool for children, teaching them the basics of pedaling, steering, and balance, but they have also evolved into specialized vehicles used for commercial purposes and by adults for exercise or mobility support.