Radio Flyer Red Tricycle
Classic red tricycle.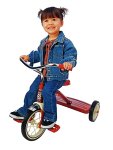 This Radio Flyer Tricycle features classic tricycle styling with chrome handlebars and fender. It contains a sturdy steel construction, durable steel spoked wheels with real rubber tires, an adjustable seat and a 10 inch front wheel. Recommended for ages 2 to 4. A tinier version of the traditional Radio Flyer steel trike, this 10-inch classic couldn't get any cuter without an anxious toddler onboard. Wide handlebars with grips, matching red pedals, a step in back for piggybacking, and a wide two-color seat give it a distinctly retro look. But its old-fashioned style doesn't take away from its functionality--the ride is smooth.