Secrets of Bikini Bottom
Underwater Adventures Announces Summer Exhibit Featuring Real Animals From the SpongeBob Squarepants Series.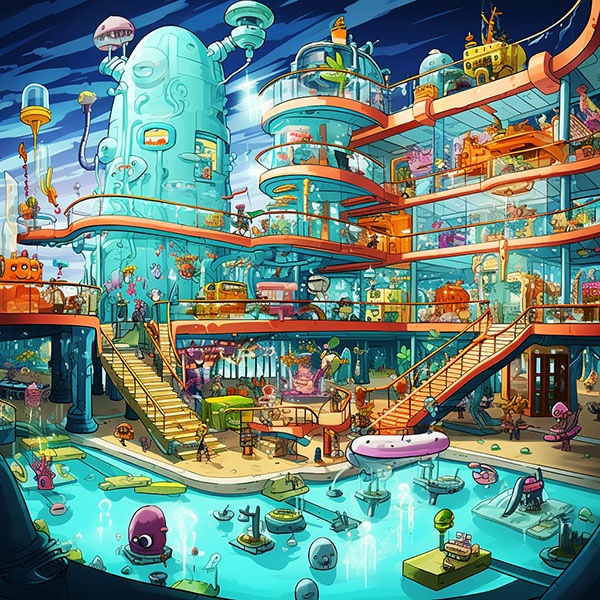 In April 2003, Underwater Adventures at the Mall of America, in partnership with Nickelodeon and MTV Networks, announced the plans to open a summer exhibit, SeaCrits of Bikini Bottom, May 23, 2003. The new exhibit featured real animals from the SpongeBob Squarepants series set in a cartoon environment.
The exhibit, SeaCrits of Bikini Bottom, featured SpongeBob, Patrick, Squidward, Gary, Mr. Crabs, Mrs. Puff, Larry the Lobster, and other residents of Bikini Bottom's living counterparts. Children were encouraged to get so close they can actually pet some of the animals like Patrick Seastar and Gary, the Pet Snail.
"SpongeBob has opened the door to kids on what lives under the sea," explains Todd Peterson, CEO of Underwater Adventures. "We want to take that enthusiasm for the characters and show them what really lives down here and what animals these characters are based on."
The SpongeBob Squarepants series follows SpongeBob, an optimistic, free-spirit that resembles a kitchen sponge that lives under the sea in the community of Bikini Bottom in a pineapple. SpongeBob works as a fry cook at the Krusty Krab diner, where his friends include an octopus and starfish.
The creator of the animated series, Steven Hillenburg has a bachelor's degree in natural sciences with an emphasis in marine biology from California's Humboldt State University. His interests were in tide-pool ecology and animals that are sometimes considered the oddballs of the sea like sponges, crabs, starfish, and snails.
SpongeBob Squarepants made its premier in July 1999 on the number-one entertainment brand for kids, Nickelodeon. The show is one of the highest-rated kids' shows on television, according to Nielsen's Media Research data. Last year TV Guide Magazine named SpongeBob one of the Top Ten Cartoon Characters of All Time and most recently won the honors of Favorite Cartoon Character on the Kid's Choice Awards this past Saturday, April 12, 2003.