Wireless Xbox Headset
Clear audio transmission from up to thirty feet in a compact design with six hours of play time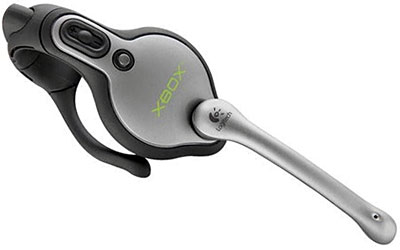 In 2004, the Logitech Cordless Headset for Xbox provided the ability to play games over the Internet with complete cordless freedom from up to thirty feet away. Now gamers have one less thing to worry about, the headset cord, as they strategize with teammates.
Licensed by Microsoft, the device offers a compact design and rechargeable batteries that provide up to six hours of play time. The headset is lightweight and sits comfortably over the ear for use for hours of extreme game play so gamers can communicate with teammates and adversaries all over the world in real time, without being tied to their system.
The headset uses 2.4 GHz technology, which provides clear audio transmission without interference or delays so no team member is left behind. And, the headset offers the high-quality audio that gamers have come to expect from Logitech.
"Online gaming is intense, and communication is becoming essential for victory in battle," said Jef Holove, director of product marketing for Logitech's Interactive Entertainment products. "The Cordless Headset for Xbox gives players a real advantage in multiplayer gaming and the cordless freedom they've been looking for. Online console gaming will play a significant role in the future of video games and we are pleased to be providing gamers with quality solutions for Xbox Live."
Today, there are more than one million Xbox Live players in 24 countries around the world, and with the titles expected to hit shelves during the next year, that number will keep on growing. Whether players are using the headset to chat, strategize, or make new gaming friends, the experience is top quality. The signal and range are powerful, the fit is comfortable, and the adjustable noise-canceling microphone blocks out unwanted background noise so the message that reaches teammates is loud and clear. In addition, the headset is backed by Logitech's many years of experience in producing innovative peripherals for the interactive entertainment market.
The wireless headset came with two months of free Xbox Live service. It was available in the U.S. this fall for a suggested retail price of $79.99.