2 Girls Jewelry Box
This jewelry box includes an acrylic mirror, removeable tray, and drawer.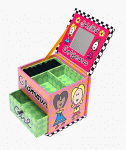 Because every girl needs a jewel case in which to tuck her treasures, this compact little box should do the trick. Covered with colorful 2 Girl graphics, the sturdy, varnished paperboard box has a small drawer in the bottom and a top that flips open to reveal a little tray. The tray has three sections, including a velvet ring holder, and when you lift it up there's a tiny storage area underneath. A little mirror is tucked into the lid along with the kind of greeting every girl longs to hear: Hello, Gorgeous. This jewelry box includes an acrylic mirror, removeable tray, and drawer.
A jewelry box is a timeless gift that marries practicality with elegance. It serves as a safe and organized repository for treasured pieces, ensuring that jewelry remains untangled and free from potential damage. Beyond its functional aspects, a jewelry box often stands as a decorative piece in itself, crafted with intricate designs, quality materials, and meticulous attention to detail. When gifted, it conveys a sense of thoughtfulness, as it reflects an understanding of the recipient's need to cherish and protect their valued possessions. Moreover, a jewelry box can hold sentimental value; as years go by, it becomes a keeper of memories, each compartment holding not just jewelry but stories and moments from the past. Its lasting appeal and blend of utility and beauty make it an ideal gift for various occasions, be it birthdays, anniversaries, or milestones.