Fashion Toys - Dress Up Games - Jewelry for Kids
Beauty gifts for girls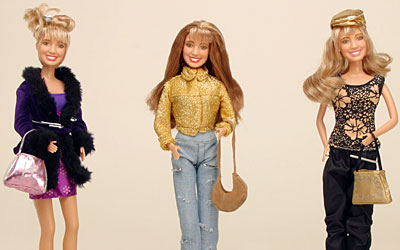 Color Me Gems - Color, design, create, and sparkle with Fisher-Price Color Me Gemz purse and jewelry box.
Airbrush Tattoo

Hello Kitty Alpha Beads - The cute carrying case and plastic holding tray are perfect for keeping this toy well-organized.

Alphabet Beads - Personalized jewelry and key chains.

Metallic Bead Pets Backpack Keychains - Use dazzling metallic beads to make 10 cool critters.

Barbie Jewelry Box - Colorful Barbie jewelry box.

Bead a Bug Kit - The attractive clear case contains enough supplies to make four beautiful beaded bugs.

Bead Scene Girl Zone - Creating cool jewels with Girl Zone Bead Boutiques is fun and magical.

Bead Wish Kit - Perfect bead toy gift for that hard-to-please girl ages 8-14.

Beaded Flowers and Butterflies - Make a beautiful bouquet of flowers and butterflies.

Body Glitter Kit - Glitter adds sparkle to your day.

Bratz Funky Fashion Makeover - For girls with a passion for fashion.

Click Its

Crystal Beaded Jewelry - Sparkling jewelry in iridescent colors.

Metallic Die Cast Jewelry - A colorful array of plastic beads and all the cords, clasps, and detailed instructions for making charm bracelets, earrings, necklaces, or key chains.

Gelly Friendship Fashions Jelly - Weave, bead macrame and braid black and pastel colored embroidery thread into bracelets, anklets, necklaces, and hair wear.

Gembroidery - Custom decorate clothing and fashion accessories.

Barbie Fashion Blast Game - Fast-paced, interactive fashion game.

2 Girls Jewelry Box - This jewelry box includes an acrylic mirror, removeable tray, and drawer.

Hilary Duff Fashion Dolls

Mini Harmonica Necklace - Each necklace comes with a song and playing instructions.

Glass Painting Jewelry Box Kit - Before older children try their hand at stained glass, they may want to start with this painted jewelry box kit.

Cool Jewelry Maker Case - The makings for homemade necklaces, bangles, and earrings.

Ultimate Jewelry Center - Everything you need to design and create cool key chains, beautiful bracelets, necklaces, anklets.

Jewelry Holder - A jewelry holder that you create.

Madeline Jewelry Box - Open the top and Hats off to Madeline plays while Madeline twirls around.

Mirror Jewelry Box Kit - Use acrylic paint in a modern palette to decorate your jewelry with a unique design.

Musical Jewelry Box - Special treasures and jewelry can be stored in the secret drawers.

Nail Design Studio - Great fun for girls.

Pretty Pretty Princess Jewelry Game - Players move their pieces around the game board collecting plastic costume jewelry, such as rings, earrings, necklaces, and bracelets.

Quick Wrap from Conair - With beads and tassle charms.

Safety Pin Bracelet Kit - This kit contains everything needed to create a gorgeous bracelet in lush glowing colors.

Sassy Stables - The fashionable horses that talk.

Barbie Make-Me-Pretty Talking Styling Head - Comes with fun color-change makeup and over 20 accessory pieces.

Tattoo Jewelry - Weave, bead, macrame and braid embroidery floss into bracelets, anklets, necklaces and hairwear.