Adjustable Height T-Ball
9 position adjustable and flexible tee for sluggers of all sizes.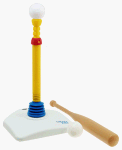 A simple setup for small (and medium) sluggers, this all-plastic set includes a 15-by-13.5-inch white home plate; a telescoping yellow pole/cup; a wide, lightweight, tan bat; and two white plastic softballs. The pole attaches to the base with a blue concertina piece that allows the pole to spring back into place in case Junior hits it, and not the ball. Your kids may not swing like Griffey just yet, but with the pole height adjustable from 23 up to 32 inches, they'll have several seasons in which to practice.