Balls
Enhancing play time and making outings enjoyable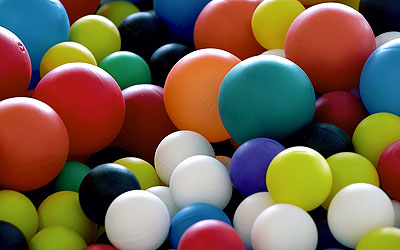 Adjustable Height T-Ball - 9 position adjustable and flexible tee for sluggers of all sizes.

Baby Basketball - Young superstars will love to dunk the three brightly colored balls through the hoop or press one of the buttons to see where the ball comes out.

Ball Rattle - Classic Pooh Multicolor Ball Rattle.

Balls for a Ball Pit - 100 boy pit balls.

Battleball Battle Ball

Big Bounce Ball - A supersize bouncing rubber ball measuring 50 inches in diameter.

Bulls Eye Ball

Deluxe Pound A Ball - 3 Balls Go Through The Maze Before Reaching Bottom.

Discovery Ball by LeapFrog - Spin or roll the discovery ball to hear the alphabet song or three other melodies.

Fun Hop Bounce Ball With Handle - Fun Hop bounce ball has a strong handle with a good grip - kids love to bounce on it.

Giggle Ball - Several toys in one.

Hoberman Expanding Sphere - This amazing sphere expands from 9.5" to over 30" with the touch of a finger.

Jumping Ball With Handle - Ball you sit on and bounce with a sturdy handle.

Mini Nerf Balls - Includes football, scoccer ball, and basketball.

Nerf Ball Blaster - Blasts balls with pump and pull action.

Nerf Turbo Screamer - Makes an amazing sound as it goes throught the air.

Nerf Vortex FireStrike Football - Throw like a pro and light up the action at the same time.

NFL Nerf Football - Nerf Sports Original NFL Turbo Football: Play Football.

Orange Soccer Ball - Competitor Series Orange Soccer Ball.

Soccer Starter Set - This starter set has everything young soccer players need to start practicing.

Soft Ball for Baby - Rattle, Squeak and Crinkle: Soft Ball and Cube.

Spalding Junior Basketball

Stand Up Ball Blast by Fisher-Price - Stand up ball blast has five plastic balls that push through the hole at the top of a tower.

Water T-Ball - The Original Water T-Ball by Ohio Art.


From nerf ball blaster to a kit to designing your own soccer ball kit; from discover ball to lamaze peek a ball, we describe balls for all ages. Fisher price box of 100 balls will help fill the kind of play area that kids love when you take them out to eat. Whatever the season, whether winter, summer, or fall, there are balls that will enhance play time and make every outing memorable.