Air Snares Drumming Game
Drums you can pay anywhere - the more you play the better you get.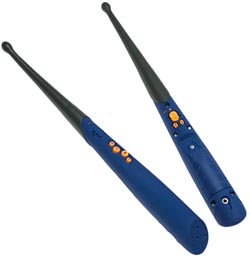 Kickin' Drum Beats Hit The Air With Mattel's New Air Snares Game! Aspiring Drummers Make Cool Music with Electronic Drumsticks. From the car dashboard to the best pots and pans in the cupboard, kids have always loved to jam and rock-out by turning whatever they can get their hands on into a drum set. In fact, at one time or another, every kid dreams of being a member of their favorite band. They imagine themselves rocking out cool beats for fans everywhere, with deafening applause following every set. Now rock stars in the making can create real musical fun and take it wherever they go with Air Snares, a unique game and musical instrument in one! These new sticks will take budding musical geniuses to a new level of air drum entertainment.
Air Snares is the only handheld electronic game that is actually a pair of drumsticks that play fun tunes and musical games of skill when kids tap them in the air. These cool drumsticks come with built-in speakers and an LED display. Drummers don't even have to strike a surface in order to play one of the fun games or when they jam in free-play mode. The best part is that Air Snares makes every player sound amazing, no matter what their level of drumming experience. When tapping out an air drum rhythm, Air Snares keeps tempo along with the player. The game includes different drum and long symbol sounds, 20 different melodies and three modes of play for hours of fun. In Repeat the Beat, players listen to the game play a tune and then do their best to repeat the beat by playing the drums in the air. The computer judges the kids and even scores their performance.
In Follow the Beat, players keep up with the rhythm and beat of the background riff that is played. In modes one and two, players are scored with a crowd cheer or boo. Then in Free Play, aspiring drummers can chose from more than 16 different drum types or special effects to create their own cool tunes and make them different every time they play. Music is an important creative outlet for children, and Air Snares is a great way to tap into their musical talents and imagination, said Phil Jackson, Vice President of Games & Puzzles Marketing for Mattel, Inc. Air Snares releases that creativity in a fun and exciting way as kids create their own beats. Busy kids on the go can enjoy the musical experience of Air Snares anywhere as they practice to be the next famous drummer.