Airtivity Table Playschool
A table toy or a floor toy with fun motion.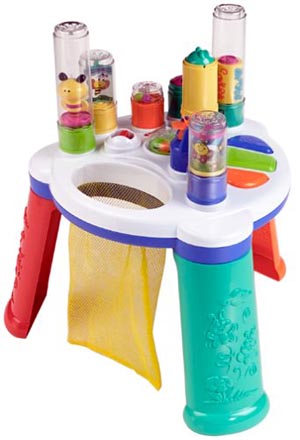 Unique infant-to-toddler toy sets fun in motion with animated features, happy melodies and silly sounds. Simply fit the Air Tivity pieces onto the table to and press buttons to activate colorful characters that pop, twirl, spin, flutter and fly-all on a cushion of air. Stack the pieces on top of each other for even more air-powered play. A table toy for toddlers and a floor toy for the youngest babies.
Playskool, a venerable brand in the world of children's toys, has garnered a reputation for creating educational toys that stimulate young minds while fostering developmental growth. Over the decades, the brand has adeptly combined play with learning, recognizing early on that children absorb knowledge most effectively when they're engaged and entertained. Their toys are often designed with a deep understanding of child development, targeting specific skills such as motor abilities, cognitive development, and sensory exploration. Playskool's commitment to quality and safety further bolsters their reputation, as parents can trust that the products are not only educational but also safe for their little ones. As a result, Playskool has become synonymous with toys that are both fun and foundational, helping generations of children build crucial skills through play.