Alphabet Art Puzzle
Learn the alphabet and art with this puzzle.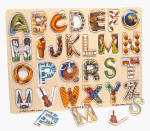 Beautifully illustrated letters make learning the alphabet easy and fun. Matching full color illustrations are underneath each piece. Helps children develop their dexterity and matching skills. Quality wood construction will last a lifetime.
Puzzles designed around the alphabet offer a hands-on and interactive approach to letter recognition and phonetic understanding for children. As children piece together alphabet puzzles, they are prompted to match each letter with its corresponding shape, reinforcing visual recognition of each character. Additionally, many of these puzzles come with images representing words that start with the corresponding letter, linking the visual symbol of the letter with its sound. This association aids in phonetic understanding and vocabulary expansion. Handling the puzzle pieces also enhances fine motor skills, which can be beneficial when children begin to write. Moreover, the repetitive nature of assembling and disassembling puzzles reinforces memory retention. In essence, alphabet puzzles combine tactile, visual, and auditory learning styles, making the process of learning the alphabet engaging, memorable, and enjoyable for young learners.