Amazing Elastic Plastic
Create balloons of all shapes and sizes.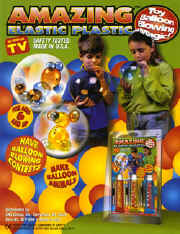 Fun for all ages. Create balloons of all shapes and sizes. They won't pop. Amazing elastic plastic comes complete with a red tube, a yellow tube, and a blue tube of elastic plastic. Also included are three blow tubes. Make your own balloons with the Amazing Elastic Plastic Magic balloon making kit. Easy to use and fun to do, the kit comes with eight 1-ounce tubes of elastic plastic, including two red, two blue, two yellow and two tubes of the new glow-in-the-dark plastic. The kit also features eight blow wands and a complete set of instructions. Parental supervision suggested. For ages 6 years and up. Amazing Elastic Plastic is made in USA.
Amazing Elastic Plastic offers a whimsical twist on the traditional concept of balloons. This innovative toy invites children and adults alike to craft balloons with their own breath, watching as a small dollop of plastic magically transforms into a translucent, bouncy creation. The tactile sensation of shaping the plastic, combined with the sheer joy of inflating it into various sizes and forms, introduces a novel, hands-on experience that differs from simply filling up pre-made balloons. The ability to create balloons of different shapes, sometimes even joining them together, ignites creativity and provides endless entertainment. Plus, the ephemeral nature of these balloons, their shimmering colors, and the gentle floating movements captivate the imagination, making playtime with Amazing Elastic Plastic a delightful and enchanting activity.