Amazing Maddie Doll
Amazing Ally's best friend.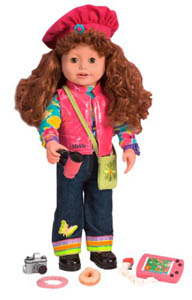 Meet Ally's way-cool best friend Amazing Maddie. Maddie is the next generation of 'smart dolls' and employs Playmate's interactive technology. She has all of the features of Amazing Ally including animatronics and is a complete doll system. She's every little girl's personal tour-guide to globe-hopping adventures in ultra-artsy, high-fashion style. She reacts and interacts just like Ally...but with her own creative flair. Maddie has a 'today' attitude as she is savvy with today's fashion and trends and is very creative and artistic. Amazing Maddie includes an Arts 'n Crafts Adventure Ware cartridge, 9 set-up cards, 4 story/game cards, a Creative Padd, funky outfit, interactive accessories such as a 35 mm play camera, bagel, travel mug, hair brush, cute flower and dragonfly barrettes, and a project book. Already friends with Ally, she will be your best friend too.
Maddie can play and interact with you in exciting new ways! Just put one of her story or game cards in her Creative Padd and she'll take you on an arts 'n crafts or fashion adventure! (I love to be creative with you gal pal!). You probably already know her tea drinkin', cheerleadin' best friend, Amazing Ally. Well, this chickadee wants to be your child's friend, too. Amazing Maddie is Ally's new, hip best friend. Maddie uses the same technology that has made Ally a toy wonder, but has a personality that appeals to a totally different type of child. You'll find that out when you hear her talk (That's ultra!), check out her luxurious brown hair and green eyes, and envy her funky clothes (which electronically compel voice responses).
Maddie is keen on expressing her interests and opinions, and, before you know it, quiet, timid children will be talking their heads off, too! Maddie keeps a volume of ready stories behind her earthy animatronic lips. She remembers favorite dates and places and loyally keeps secrets. She even has goodies for her new human friend: a child-sized friendship bracelet and a project book they can use together. She's an amazing pal with an edgy Y2K attitude--she even eats bagels! Parental guidance is necessary, initially, to program Maddie's memory and understand the functions of various buttons.