American Girl Place
Experiential retail store with shopping, dining, and theater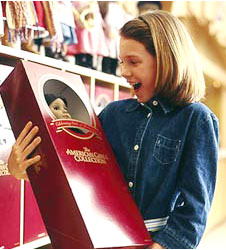 Opened in 2003, located at 609 Fifth Avenue, American Girl Place New York was the ultimate girl-centric experience, providing a space where girls could create lasting memories and delight in products and activities created just for them. In addition to shopping for their favorite American Girl books, dolls, and accessories, girls and their guests could enjoy a wide range of unforgettable experiences, from dining in the American Girl Cafe to singing along with a live musical in the American Girl Theater.
When they walked in the 49th Street doors, girls could discover the contemporary American Girl Today dolls and accessories -- including Coconut the puppy and her large-scale doghouse, and a selection of girl- sized Dress Like Your Doll clothing. And for dolls that need a new 'do, young owners could drop them off at the '50s-style Doll Hair Salon. Other main floor attractions include the award-winning Girls of Many Lands doll and book line and a cozy bookstore where girls could browse for their favorite American Girl books.
The second floor featured The American Girls Collection, the company's flagship line of books, dolls, and accessories centered around nine-year-old fictional heroines who lived during important times in America's past. In addition to seeing the entire Collection on display, girls could peek into the past through historical exhibits that bring the long-ago worlds of the American Girls to life with authentically re-created corners of their homes.
Also located on the second floor, the American Girl Theater brought beloved historical characters to life in a different way. The intimate 130-seat theater opened with The American Girls Revue, an original live musical -- created by Broadway playwright Gretchen Cryer and composer Nancy Ford -- that embodies the values and lessons that lie at the heart of the American Girls stories. The one-hour performance, starring a cast of eight girls and four adults, invited girls to use their imaginations to step into the past and to follow their hearts as they envision their own futures.
On the top floor, girls and their guests enjoyed brunch, lunch, afternoon tea, or dinner in the 140-seat American Girl Cafe, as well as celebrate birthdays in the Cafe's private dining area. Starched white linens, sparkling silverware, and a whimsical, contemporary decor were the setting for a fancy dining experience that's fun for girls and grown-ups. With their favorite doll seated next to them in a special doll-sized Treat Seat, girls could enjoy a variety of delicious menu items, such as warm cinnamon rolls or savory tea sandwiches. Conversation starters at each table prompt guests to tell stories or share special memories. Before or after dining in the Cafe, girls can visit the Bitty Baby nursery, featuring the adorable Bitty Baby dolls and accessories, plus a line of Dress Like Your Doll clothes. Also upstairs is an Angelina Ballerina boutique, complete with the classic line of Angelina picture books and plush toys, and the new Hopscotch Hill School line of integrated early reader books, high-quality dolls, and classroom-themed play sets.
For the convenience of American Girl Place visitors, the mezzanine level (separating the first and second floors) included coat check and gift-wrap services, plus Doll Hospital admissions, where girls could drop off their special "patients" for repairs.
The store closed in 2017. As of 2023, a Pumas store is in its place.
American Girl dolls are famous for several reasons:
Historical Characters: The original American Girl dolls were each associated with a particular time period in American history. Each doll had a series of books that told stories from that doll's perspective, giving young readers insight into the era. This educational component made the dolls not just toys, but also tools for learning about history.
Quality and Craftsmanship: The dolls are well-made and known for their durability and attention to detail. This quality has justified their higher price point for many parents and collectors.
Diverse Range of Characters: Over the years, American Girl has expanded its line to include a broader range of characters from various backgrounds and ethnicities, which has been appreciated by many consumers seeking diverse representation.
Customization: The "Truly Me" line allows children to select dolls that look like them with various skin tones, hair colors, and styles, and other features. This personalization helps children feel represented and connected to their dolls.
Contemporary Issues: Some of the dolls and accompanying stories address more modern issues and challenges that young girls might face today, making them relatable to the current generation.
Accessories and Playsets: One of the hallmarks of American Girl is the vast array of accessories, clothing, and playsets available for each doll. These allow children to immerse themselves more deeply in the world of each character.
Positive Messages: The stories associated with the dolls often carry positive messages about friendship, perseverance, and integrity, among other values.
Stores and Experiences: American Girl has flagship stores in various locations where fans can have immersive experiences. These stores often include cafes where you can dine with your doll, salons for the dolls, and events and workshops.
Magazine and Movies: Beyond the dolls and their books, American Girl has also published a popular magazine and produced movies based on the characters, further expanding their brand and reach.
Collector's Items: Many adults collect American Girl dolls, both for nostalgia and as valuable collector's items, especially the dolls that have been retired.