Animal Alley Plush Dog
Plush puppy with big floppy ears.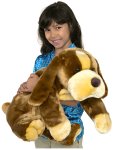 This plush puppy makes a soft, sweet companion for pet and plush lovers of any age. Big floppy ears, deep dark eyes, large tan paws, and a cute stub tail are all covered in the softest light brown fur imaginable. Darby's cuddle quotient goes up even higher, given that he is slightly understuffed for extra squeezability when humans need something to soft hug.