Animal Crossing GameCube
Interact with a virtual village of animals. The game world runs on a real-time 24-hour clock.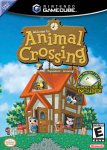 The sun rises and sets at the same time as the real world. Link up your Game Boy Advance to collect NES games and unlock new worlds. Use your memory card to take your character to the animal world of your friend. Build a community like no other in this one-of-kind game that's been a sensation in Japan. In Animal Crossing, you'll venture into a charming world teeming with colorful characters living in time with an actual 24-hour clock. You'll get a job, buy and furnish a house, and begin to interact extensively with your intriguing new neighbors. You'll help them with their many tasks, visit their homes and build warm relationships. A masterpiece of balanced gameplay, Animal Crossing deftly promotes both friendly competition and big-hearted cooperation at the same time. Over time, the many activities fuse to create a fascinating community experience. You'll yearn to return again and again to Animal Crossing.
History of Animal Crossing
Animal Crossing is a popular life-simulation video game series developed and published by Nintendo. The series has evolved significantly over the years, providing players with unique and immersive experiences in various iterations.
1. Animal Crossing (2001 - Japan, 2002 - International)
The debut title was first released for the Nintendo 64 in Japan under the name Dōbutsu no Mori. Later, it was adapted for the GameCube with added content and was introduced to international audiences as Animal Crossing.
2. Animal Crossing: Wild World (2005)
This installment was the first on a handheld console, the Nintendo DS. Wild World introduced online play, allowing players to visit other players' towns.
3. Animal Crossing: City Folk (2008)
Released for the Nintendo Wii, City Folk introduced a city area where players could shop for rare items and meet special characters.
4. Animal Crossing: New Leaf (2012)
Debuting on the Nintendo 3DS, New Leaf had a significant twist: players became the mayor of their town, granting them more control over its development.
5. Animal Crossing: Pocket Camp (2017)
This mobile version brought the series to smartphones, focusing on managing and customizing a campsite.
6. Animal Crossing: New Horizons (2020)
Released for the Nintendo Switch, New Horizons offers a deserted island setting that players can transform into their dream paradise. It became especially popular during the global pandemic, offering players a virtual escape and means of socializing.
Throughout its history, the series has been lauded for its charming characters, freedom of expression, and the soothing rhythm of life it offers. As the series continues, fans eagerly await what the next iteration will bring.