Video Games News
Video Game News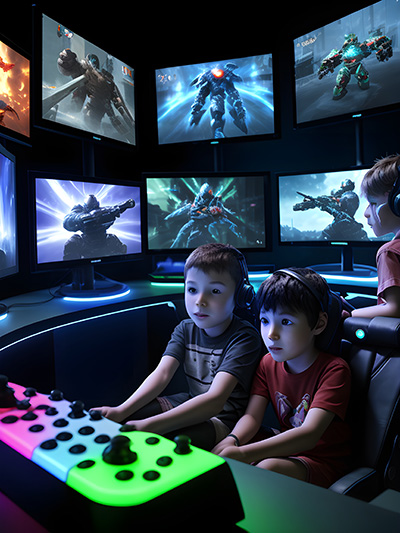 The history of video games is rich and extensive, spanning several decades.
1950s: Early Experiments: Scientists and engineers began experimenting with computer games, such as "OXO" and "Tennis for Two."
1962: Spacewar!: Created at MIT, "Spacewar!" is considered one of the first digital computer games.
1971: First Arcade Game: "Computer Space" became the first commercially available arcade game.
1972: Pong: Atari's "Pong" became a cultural sensation and laid the groundwork for the arcade industry.
1977: Home Consoles: The Atari 2600 and other early home consoles brought video gaming into living rooms.
1980: Pac-Man: "Pac-Man" was released, becoming one of the most iconic and successful arcade games of all time.
1983: Video Game Crash: A market oversaturation led to the video game crash of 1983, a significant setback for the industry.
1985: Nintendo Entertainment System: Nintendo's NES revitalized the industry and introduced enduring franchises like "Super Mario Bros."
1989: Game Boy: Nintendo's Game Boy popularized handheld gaming.
1990s: Rise of 3D Graphics: The emergence of 3D graphics in games like "Doom" and "Final Fantasy VII" revolutionized gaming experiences.
1996: Online Gaming: "Quake" became one of the first major online multiplayer games.
2000s: Console Wars: The PlayStation, Xbox, and Nintendo consoles competed fiercely, driving technological advancements.
2007: Mobile Gaming: The release of the iPhone opened new opportunities for mobile gaming.
2010s: Virtual Reality: VR technology became more accessible, leading to immersive gaming experiences.
2013: eSports Explosion: Competitive gaming grew into a major global phenomenon.
2015: Cloud Gaming: Services like PlayStation Now and Google Stadia introduced cloud gaming, allowing streaming of games.
2020s: Next-Generation Consoles: The PlayStation 5 and Xbox Series X/S brought new levels of performance and realism.
Ongoing: Indie Game Movement: Independent developers continue to innovate and enrich the gaming landscape with unique titles.
Ongoing: Social Impact: Video games have become a significant part of popular culture, influencing art, music, and social interactions.
Video Game Vault