Animal Planet Ant Farm
Ant farm includes way to send away for live ants.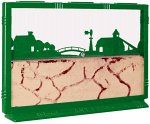 The big viewing surface of this ant farm is perfect for group ant watching. The farm comes complete with a year supply of ant food, water feeder, clean tunneling sand, illustrated Ant Watcher's Handbook, and a mail-in coupon for live ants. Some people buy Uncle Milton's ant farms out of nostalgia, having been ant farmers themselves as kids. Others are charmed by the odd perspective created as the ants build outsize tunnels beneath a replica of a bucolic little farm.