Aqua Light Swim Mask
The Aqua Light Mask heightens underwater visibility, and is a cool pool tool for swimming at night.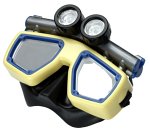 Flip the little blue switch at the top of this cool swim mask and you'll be able to see underwater in the dark, because this mask has built-in headlights! Imagine two tiny waterproof flashlights mounted on the top of a swim mask, and you'd have the Aqua Light Swim Mask. It's made of hard yellow plastic with blue trim, it has a standard black nose cover and an adjustable strap to fit junior swimmers ages 6 to 10. The lights are powered by four AAA batteries (not included) to be contained in a horizontal compartment on top of the mask. The lights in the center require two tiny light bulbs, which are included. These components are kept waterproof through the use of O-ring seals. The Aqua Light Mask heightens underwater visibility, and is a cool pool tool for swimming at night. With the flip of a switch, see better underwater with these hands-free headlights. Have fun in the water day and night. Dual headlights improve visibility in murky water or light up any object in the pool. The Aqua Light Mask is great for underwater diving games of hide and seek and nighttime swims. Easy on-off swith. Waterproof battery compartment.
Swim masks are fun for children for several reasons:
Clear Vision Underwater: Swim masks provide a clear, wide-angle view underwater, allowing children to explore aquatic environments more comfortably. Unlike traditional goggles, which cover just the eyes, swim masks cover a larger portion of the face, providing a more immersive experience. This enhanced visibility can be particularly exciting for children as they discover the underwater world.
Comfort and Ease: Swim masks are typically designed to be more comfortable and user-friendly than goggles. They often have a soft silicone skirt that forms a watertight seal around the eyes, preventing water from entering. This design is less likely to cause discomfort or leave marks around the eyes, making them more enjoyable for kids to wear for extended periods.
Less Water Leakage: Due to their larger coverage area and secure seal, swim masks tend to experience less water leakage compared to traditional goggles. This means children can swim, dive, and play underwater without constantly adjusting their eyewear or dealing with water entering their eyes. This feature enhances the overall underwater experience and can contribute to the fun factor.
Exploration and Imagination: For children, wearing swim masks can spark their sense of adventure and imagination. They might feel like they're becoming explorers, divers, or underwater creatures while using these masks. The unobstructed view allows them to observe aquatic life, discover hidden treasures (such as pool toys or objects on the pool floor), and engage in imaginative play.
Confidence Building: Swim masks can boost a child's confidence in the water. With improved visibility and reduced water-related discomfort, children might feel more at ease while swimming, diving, or even learning new skills. This positive experience can encourage them to be more active and engaged in aquatic activities.
Playful Design: Swim masks often come in playful and colorful designs that appeal to children's tastes. Fun patterns, vibrant colors, and even character-themed masks can make the swimming experience more enjoyable and exciting for kids. When children are drawn to the appearance of their swim masks, it adds to the overall sense of fun and anticipation.
Swim masks offer an enjoyable and playful experience for children. They provide enhanced underwater views, comfort and ease of use, reduced water leakage, stimulate exploration and imagination, boost confidence in water activities, and come in engaging designs. These factors collectively contribute to making swimming and underwater playtime more exciting and fun for young ones.