Pool Toys
Toys and safety devices for the water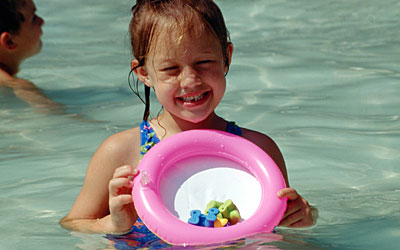 How pool toys can make swim time more enjoyable:
Inflatable Floats: From simple rings to elaborate shapes like unicorns and flamingos, inflatable floats add a fun and relaxing way to lounge on the water.
Water Guns and Blasters: Engaging in water battles with water guns and blasters can provide hours of entertainment for children and adults alike.
Diving Toys: Toys that sink to the bottom of the pool encourage diving and underwater exploration, helping swimmers improve their diving skills.
Pool Volleyball and Basketball Sets: These sets allow for friendly competition and team play, turning the pool into a sports arena.
Motorized Pool Toys: Remote-controlled boats and submarines can be maneuvered around the pool, adding a technological twist to swim time.
Noodle Floats: Flexible and buoyant, noodle floats are versatile toys that can be used for games, exercises, or simply floating around.
Interactive Water Play Mats: Especially great for toddlers, these mats offer various textures and features, stimulating sensory play in the water.
Light-Up Toys: Toys with built-in LED lights can create a magical ambiance for evening swims, adding a new dimension to pool fun.
Water Slides: Inflatable or fixed water slides provide thrilling descents into the pool, appealing to adventure seekers.
Floating Games: From floating chess boards to tic-tac-toe, these games offer a unique way to play classic games while staying cool in the pool.
Swim Training Aids: For younger swimmers, toys designed to assist in learning to swim can make the process more engaging and less intimidating.
Educational Pool Toys: Some toys are designed with educational themes, teaching children about marine life, science, or mathematics while they play.
Themed Pool Parties: Coordinating pool toys with a specific theme (e.g., pirates, mermaids) can turn an ordinary swim time into a memorable themed party.
Pool Toy Cabinet