Art Kit Set Paint Watercolor Brushes
Watercolor for the Artistically Undiscovered.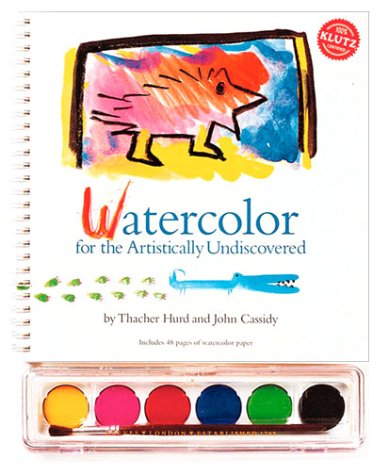 Most of the pages are actual watercolor paper, with blank space reserved for the use of the reader/painter (that's you). Complete with a palette of artist-quality watercolors, and the inspiration and encouragement of renowned illustrator Thacher Hurd. A playful guide to learning the art of watercolor painting combines storytelling with instruction and includes a complete set of watercolor paints and a brush.
Introducing a young artist to the art of watercolor can be a rewarding and enriching experience. Watercolor painting offers a unique medium that encourages creativity, exploration, and skill development. Here are some of the wonderful features and benefits of getting a young artist into watercolor:
Encourages Creativity: Watercolor allows for free-flowing expression and experimentation. Young artists can play with colors, blending, and techniques to create their unique pieces.
Develops Fine Motor Skills: Handling brushes and working with delicate strokes helps in developing fine motor skills and hand-eye coordination.
Teaches Color Theory: Working with watercolors provides a hands-on understanding of color mixing, shades, and tones, enhancing the young artist's knowledge of color theory.
Promotes Mindfulness and Focus: The process of painting with watercolors requires concentration and mindfulness, fostering a sense of calm and focus in young artists.
Accessible and Affordable: Watercolor sets are generally affordable and widely available, making it an accessible art form for many families.
Enhances Observation Skills: Painting from life or reference encourages young artists to observe the world around them closely, enhancing their observational skills.
Builds Confidence: As young artists see their progress and create beautiful pieces, they gain confidence in their artistic abilities.
Offers Opportunities for Social Interaction: Joining watercolor classes or groups can provide social interaction and peer learning, fostering a sense of community and friendship.
Environmentally Friendly: Watercolors are typically non-toxic and can be a more environmentally friendly option compared to other art mediums.
Provides a Lifelong Skill: Mastering watercolor techniques can provide a lifelong skill and hobby that continues to bring joy and fulfillment.
Overall, the art of watercolor offers a multifaceted and enriching experience for young artists, nurturing their creativity, skills, and personal growth. It's a wonderful way to introduce children to the world of art and set them on a path of artistic exploration and enjoyment.