Art Supply Kit
Totally Me 125 Piece Deluxe Art Caddy.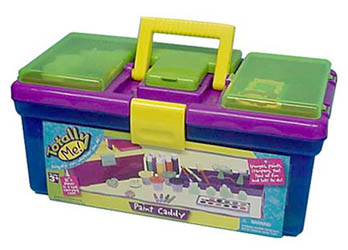 Large Art Caddy contains a variety of crayons, water color paints, posted paints, colored chalks, shaped sponges for stamping, brushes, markers, dough and dough accessories and art paper. Caddy has multiple storage compartments and removable storage tray.
For children with a passion for art, having access to a variety of art supplies can be crucial for their development and creativity. Here's why it's essential to keep artistically inclined children stocked with art supplies:
Fosters Creativity: Having a variety of art supplies at hand allows children to experiment with different mediums and techniques, fostering their creativity and innovation.
Encourages Continuous Practice: Regular access to art supplies ensures that children can practice and hone their skills whenever inspiration strikes, leading to continuous improvement.
Builds Confidence: Being able to create and complete artistic projects builds self-confidence and a sense of accomplishment in children.
Enhances Motor Skills: Working with different art tools helps in the development of fine motor skills and hand-eye coordination.
Promotes Emotional Expression: Art supplies provide children with the means to express their emotions and thoughts visually, aiding in emotional development and self-awareness.
Supports Academic Success: Engaging in artistic activities has been linked to improved performance in other academic areas, such as reading and mathematics.
Provides a Constructive Outlet: Having access to art supplies offers children a constructive outlet for their energy and ideas, keeping them engaged and focused.
Encourages Independent Thinking: Experimenting with various art materials encourages children to think independently and make decisions, enhancing their problem-solving skills.
Strengthens Family Bonds: Creating art together can be a bonding experience for families, encouraging collaboration and shared enjoyment.
Prepares for Future Opportunities: Nurturing artistic talents early on can open doors to future educational and career opportunities in the arts.
By keeping artistically inclined children stocked with art supplies, parents and caregivers can support their growth, creativity, and overall well-being. It's an investment in their present enjoyment and future potential.