Bendaroos Magical Wax
Draw with, trace and place templates, stick and stay, fun kit, rainbow, neon, fun guide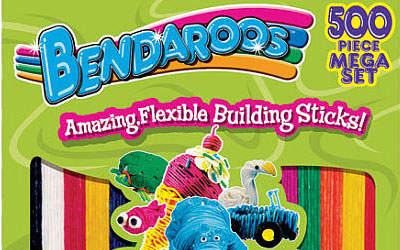 With five hundred pieces, beautifully colored in rainbow and neon, Bendaroos are built to last. The set includes Bendaroos fun guide with imaginative activities. Draw with Bendaroos; they stick and stay. Make animals and buildings. Transform with Bendaroos: turn ordinary items into art. Decorate with Bendaroos: create window art and liven up frames. Bendaroos amazing flexible building sticks. The magic wax super strong string gives children hours of artistic fun.
Bendable, shapeable wax is a versatile and engaging art material that offers a unique creative experience for children. Its pliable nature and vibrant colors make it an appealing choice for young artists. Here's why it's considered an excellent art material:
Easy to Manipulate: The soft and bendable nature of the wax allows children to easily shape it into various forms and figures. They can twist, roll, and mold it without any difficulty, making it accessible for all ages.
Enhances Fine Motor Skills: Working with shapeable wax helps children develop their fine motor skills. The act of shaping and molding the wax requires precision and control, enhancing hand-eye coordination and dexterity.
Encourages Creativity: The limitless possibilities of what can be created with bendable wax inspire children to think creatively and imaginatively. They can craft anything from simple shapes to intricate sculptures, allowing their creativity to flourish.
Safe and Non-Toxic: Most bendable waxes designed for children's art are non-toxic and safe to use. Parents and educators can feel confident allowing children to explore and create with this material.
Reusable: Unlike some art materials, bendable wax can be reused multiple times. Children can reshape and remodel it, providing endless opportunities for exploration and experimentation.
Therapeutic Benefits: The sensory experience of manipulating wax can have calming and therapeutic effects on children. It can be a relaxing and enjoyable way to express emotions and feelings.
Collaborative Play: Children can work together to create larger projects using bendable wax, fostering teamwork, communication, and social skills.
Integration with Other Art Forms: Bendable wax can be combined with other art materials like beads, paper, or fabric to create mixed-media artworks. It encourages children to experiment and discover new ways to express themselves.
Bendable, shapeable wax is more than just an art material; it's a tool for learning, expression, and personal growth. Its tactile nature and endless possibilities make it a favorite among children, parents, and educators alike. Whether used in the classroom or at home, it provides a fun and enriching artistic experience that nurtures creativity and development in children.