Digital Arts and Crafts Studio
Digital pen tablet for children that connects to computer via USB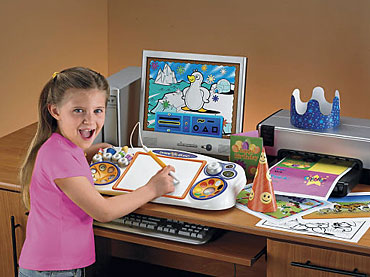 Transform your home computer into a digital arts and crafts studio for children. Hundreds of creative activities and kid-friendly tools make it fun and easy for kids to play and create on your computer, all by themselves. They can turn the stylus into a pencil tool for drawing, a paint brush, crayon, stamper and more, to design, create, print, and assemble all kinds of fun art activities and cool craft projects. 85 built-in activities, 256 colors, 75 scene starters, and 300 stampers for creating art projects. Jumping frogs, flying airplanes, paper people, greeting cards, invitations, party hats, digital coloring pages, and dot-to-dot activity pages. USB cable connection and one-time CD-ROM software installation make it quick and easy to set up. All craft programs and features are easily accessed right on the base by simply touching them with the stylus.
Art software represents a powerful tool that can unleash the creative potential in children, providing them with a platform to explore, experiment, and express themselves in ways that traditional art mediums may not allow. Here's how:
Unlimited Resources: Unlike traditional art supplies, which can be limited and expensive, art software offers an endless array of brushes, colors, textures, and tools. This allows children to experiment freely without the fear of wasting materials.
Enhanced Creativity: With features like layers, filters, and special effects, children can take their creativity to new levels. They can blend colors, create intricate patterns, and add unique touches to their artwork.
Accessibility: Art software can be used on various devices, including tablets, computers, and smartphones. This accessibility encourages children to create art anytime and anywhere, fostering a consistent creative practice.
Skills Development: By learning to use art software, children develop valuable skills such as digital literacy, fine motor control, and spatial awareness. These skills are transferable to other areas of learning and life.
Collaboration and Sharing: Many art software programs offer collaboration features and easy sharing options. Children can work on projects with friends or family members and share their creations with a wider audience, building confidence and a sense of community.
Personalized Learning: Art software can be adapted to suit the individual needs and interests of each child. Whether they are interested in drawing, painting, animation, or design, there is software tailored to support their specific creative pursuits.
Encouragement for Reluctant Artists: For children who may be hesitant to engage with traditional art materials, the novelty and interactivity of art software can be a motivating factor. It provides a non-intimidating environment where they can explore art at their own pace.
Overall, art software opens up a world of possibilities for children, allowing them to explore their creativity in a flexible, supportive, and stimulating environment. It nurtures their artistic talents and encourages them to think outside the box, preparing them for a future where creativity and digital skills are highly valued.