Zubber
Zubber Starter Set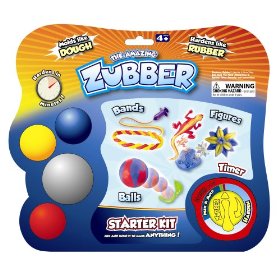 The Amazing Zubber is a new molding compound that molds like dough and hardens like rubber. Mix two compounds together to make Zubber. Create a world of fun with Zubber molds and kits. With the starter kid, you can make your own bouncing balls, flowers, horses, lizards, and even a fun splat symbol. Kit includes Zubber activator, yellow Zubber, red Zubber, blue Zubber, timer, flat mold, extruder, ball mold, mixing plate, and measuring spoons.
Zubber: The Artistic Molding Compound
Zubber is an innovative and fun artistic molding compound that has captured the imagination of children and craft enthusiasts alike. It combines the best of two worlds: the moldability of dough and the durability of rubber. Here's what makes Zubber so enjoyable:
Moldability: Zubber can be easily shaped and molded like dough, allowing for endless creativity and design possibilities. Whether it's creating jewelry, figurines, or custom toys, the flexibility of Zubber provides a hands-on artistic experience.
Durability: Once molded into the desired shape, Zubber hardens like rubber, creating a long-lasting and resilient final product. This transformation adds a unique dimension to the crafting process and results in creations that can be enjoyed for a long time.
Accessibility: Zubber is suitable for various age groups and skill levels, making it a versatile crafting material. Its non-toxic composition ensures that it's safe for children to use under adult supervision.
Color Variety: Available in a wide range of vibrant colors, Zubber allows for colorful and visually appealing creations. Artists can mix different shades to achieve the perfect hue for their projects.
Educational Value: Beyond the fun, Zubber offers educational benefits by enhancing fine motor skills, encouraging creativity, and promoting problem-solving as children figure out how to bring their ideas to life.
Therapeutic Qualities: The tactile nature of molding Zubber can be calming and therapeutic, providing a sensory experience that many find relaxing and enjoyable.
Whether used in a classroom, at home, or in therapeutic settings, Zubber provides a unique and engaging way to explore creativity. Its dough-like texture and rubber-like durability offer a novel and satisfying crafting experience that inspires imagination and artistic expression.